Segway's 'mobility robot platform' to begin mass production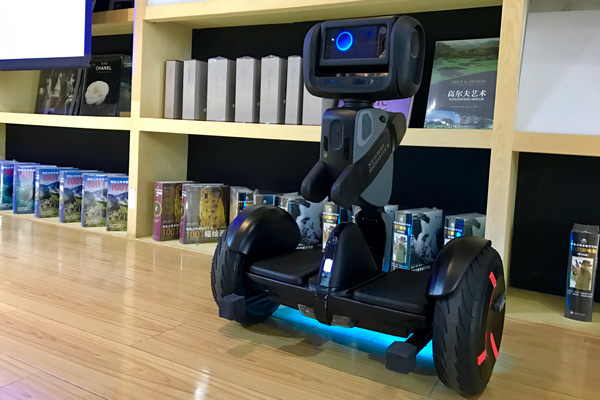 Loomo, the first consumer robot produced by Segway, is on display during a press conference held in January 19, 2017 in Beijing. [Liu Zheng/chinadaily.com.cn]
A China-made mobile robot is set to begin mass production for consumers later this year.
Ninebot (Beijing) Tech Co Ltd, backed by Smartphone maker Xiaomi, unveiled its self-balancing two-wheeled robot on Thursday in Beijing.
Named "Loomo", the robot was transformed from the Ninebot Mini series scooter, which was first launched in October 2015, months after the company made an announcement to acquire the 12-year-old US-based balancing-scooter pioneer Segway Inc, and became one of the largest patent holders in the industry.
The acquisition followed an $80 million investment in Ninebot by Xiaomi, Sequoia Capital and other investors.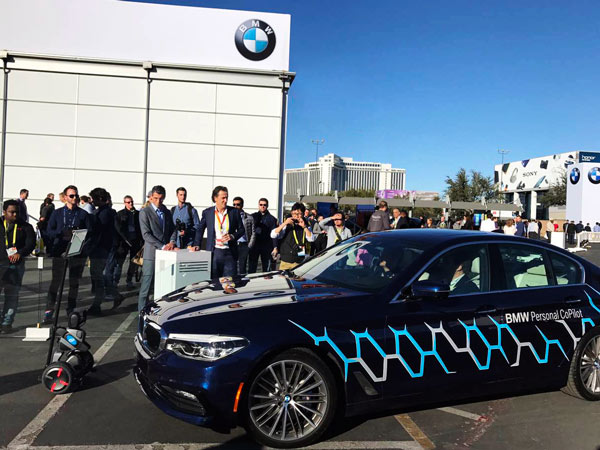 Loomo, Segway's self-balancing two-wheeled robot, presents as a parking pilot assistant for a BMW car at the CES 2017 in Las Vegas. [Photo provided to chinadaily.com.cn]
The original prototype of the robot was debuted at the international Consumer Electronics Show (CES) early last year in Las Vegas.
The core business of the startup has then expanded to two main categories: Segway PT (Personal Transportation) and Segway Robotics.
An artificial intelligence system was installed in the robot to establish look, listening and speaking skills by Intel's computing unit and a variety of sensors, such as RealSense depth perception sensor and microphone array sensor.
On the hardware side, Segway Robot provides a hardware extension bay that connects to additional accessories.
During this year's CES, the company collaborated with BMW to deploy a customized parking assistant service for the latter's vehicles.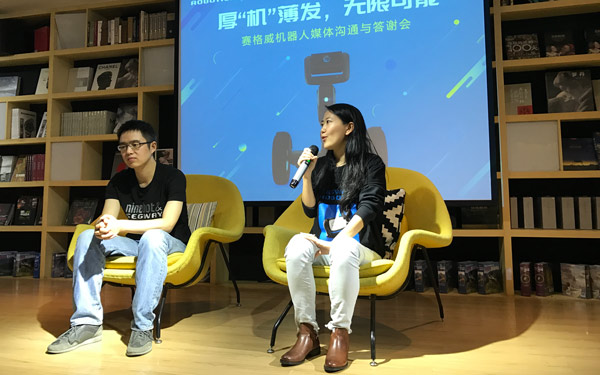 Pu Li (left) , vice president of Ninebot Inc, and Sarah Zhang, senior director and head of Robotics Business Operations of Ninebot, speak to media during a press conference held in January 19, 2017 in Beijing. [Liu Zheng/chinadaily.com.cn]
Sarah Zhang, senior director and head of Robotics Business Operations of Ninebot, told China Daily that the company is looking forward to working with more auto manufacturers to implement the service for drivers and also is willing to create customized service for high-end parking lots, similar to the charging piles that set up for Tesla drivers.
Pu Li, vice president of Ninebot Inc, mentioned that Ninebot provides an open platform and has unveiled a software developer kit (SDK) for developers to write their own applications for the new robot.
According to the company, the developers' project started in 2016 and has received thousands of applications from around the world for applying the authorization of development for Segway Robots.
Short-listed candidates chosen by the company will be qualified to purchase the developer version of the robot and receive technology support from Ninebot.
Pu noted that currently 70 percent of the registrations that come from developers, who are aiming to implement robot services, focus on industries such as general public services, medical care for elders, remote collaboration, games and entertainment, education and R&D on artificial intelligence.
"Speaking of business models, we want to accomplish a win-win beneficial success with third-party developers through application R&D and business cooperation," according to a written statement of the Ninebot Inc.
From February 10 to 12, the company will be a robotic platform sponsor of a healthcare robotics hackathon in Singapore.
The event will be hosted by MIT Hacking Medicine, originally a Massachusetts Institute of Technology student-run group that brings together innovative thinkers to solve healthcare's most pervasive problems.
Segway Robot will provide 5 Alpha robots for the teams who participate to the event.
Zhuang Yongjun, chief technology officer at Qihan Technology Co Ltd, a Shenzhen-based company focused on robotics innovation, artificial intelligence and video analysis technologies, said: "Medical assistant robots, elderly-care robots and education assistant robots will be some of the core segment markets in the future."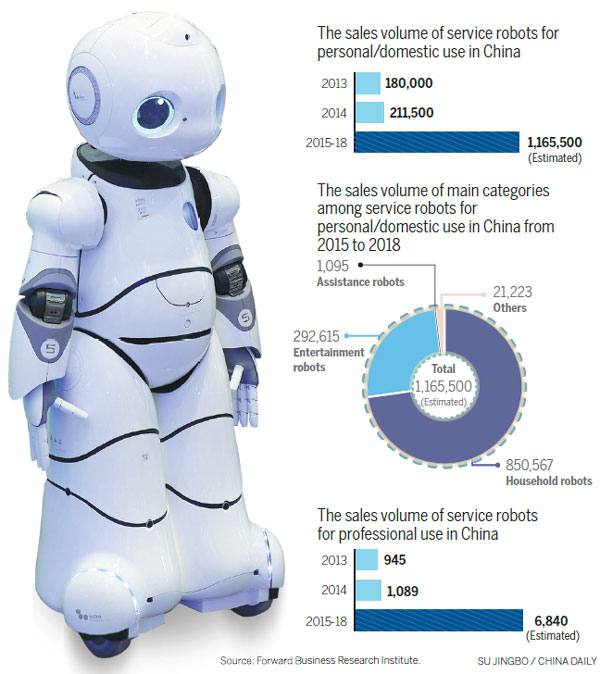 According to Xinhua News Agency, China's service robotics has been leading the world in firefighting, disaster relief, health care and catering.
In April last year, the Ministry of Industry and Information Technology unveiled an ambitious plan to sell more than 30 billion yuan ($4.6 billion) worth of domestic service robots by 2020, to meet the demand from healthcare, education, entertainment, medical and defense industries.
Latest statistics from the International Federation of Robotics show that an estimated 94,800 professional service robots will be installed between 2013 and 2018 across the world, with total sales of $17.1 billion. Medical and military robots accounted for 55 percent of the total sales.