LeEco heads off cash crunch with fresh funding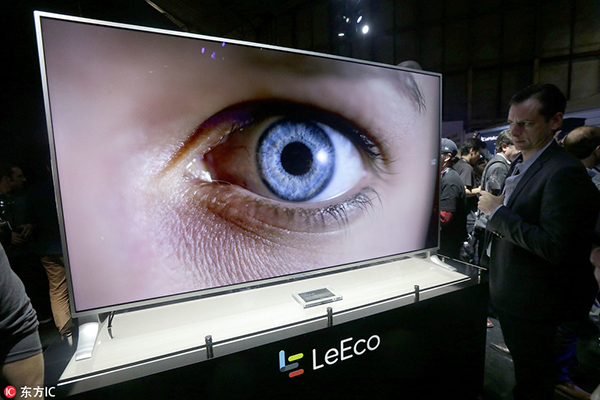 LeEco's new 85 inch television is unveiled at the press event in San Francisco, Oct 19, 2016. [Photo/IC]
Internet major LeEco said on Friday it has raised 16.8 billion yuan ($2.4 billion) in funding led by Sunac China Holdings Ltd, a Hong Kong-listed real property developer, in a move to head off its financial woes, according to caixin media.
The deal, announced in a filing to Shenzhen Stock Exchange, is expected to temporarily solve LeEco's cash crunch and help Sunac find new revenue sources, analysts said.
Sunac will spend 6 billion yuan to buy 8.61 percent shares of Leshi Internet Information and Technology Corp, the listed arm of LeEco. Once the deal is completed, Sunac will become the second biggest shareholder of Leshi.
The Shenzhen-based real estate firm will also spend 7.95 billion yuan on 33.5 percent shares of Leshi Zhixin Electronic Technology, the smart TV unit of LeEco and 1 billion yuan on 15 percent of the shares of Le Vision Pictures.
LeEco has been facing mounting doubts from investors since November, after its co-founder and CEO Jia Yueting admitted in a public letter that the company was suffering from a cash crunch due to over-expansion.
Lu Zhenwang, CEO of the Shanghai-based Wanqing Consultancy, said the deal offered a short-term solution to LeEco's capital shortage.
"It makes sense for Sunac to pour money into LeEco's listed arm and TV unit, which are profitable businesses and the latter's core assets.
"The deal can help Sunac branch into the promising internet sector, which can offer new revenue sources," Lu said. "But LeEco's cash-burning electric car offshoot is still in dire need of money," he added.
Founded in 2004, LeEco started as a video-streaming service in the mold of Netflix Inc and diversified into the automobile sector in 2014.
Shen Meng, director of Chanson & Co, a boutique investment bank, said the deal was more like LeEco borrowing money from Sunac rather than an investment.