Siemens grasps opportunities offered by its IT solutions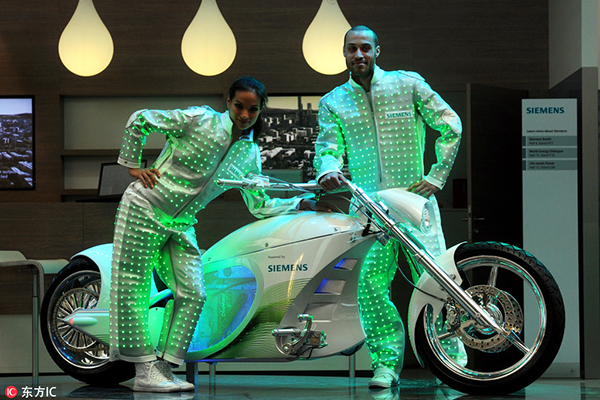 Models in illuminated suits present an electric motorbike at the Siemens stand at the HANNOVER MESSE 2010 trade fair in Hanover, Germany, April 18, 2010. [Photo/IC]
Information technology-based solutions can help Chinese companies boost product quality, efficiency, innovation and counter challenges such as rising labor costs-to pursue their goals opened up by the Made in China 2025 strategy, a leading international industry executive said.
Chuck Grindstaff, chief executive officer of Siemens PLM Software, a subsidiary of German industrial giant Siemens AG, said his group was grasping the opportunities.
"We are driving this trend forward across all our business lines in China," he said.
"We can connect mobility with energy, transportation, building and manufacturing technologies to offer cross-domain services for our customers in both China and global markets," Grindstaff added.
The Made in China 2025 strategy is a 10-year national plan designed to transform China from a manufacturing giant into a global high-tech manufacturing power.
Grindstaff said even though the winds of change were sweeping across the global manufacturing landscape with tremendous speed, China could still retain its winning edge by using innovative industrial software that could integrate product development and production processes.
The Texas-based product life cycle management, or PLM technology provider, develops software that can manage the entire life cycle of a product from designing to manufacturing, to deployment and even disposal. Its Chinese customers include China Railway Rolling Stock Corp, China National Nuclear Corp, China State Shipbuilding Corp and Aviation Industry Corp of China.
Much like cloud computing that is transforming the information technology business, Germany's "Industry 4.0" initiative-a concept that promotes the digitalization of its manufacturing industry-is now being hailed as the way forward for manufacturing companies.
Siemens has been a notable supporter and proponent of the concept, which is essentially a collective of smart factories, intelligent machines and networked processes that provide a direct and real-time interface between the virtual and physical worlds.
A cutting-edge project that showcases the advantages of PLM software is Siemens' digital plant in Chengdu, Sichuan province.
The facility, Siemens' only digital workshop outside of Germany, is a highly automated unit where production materials are sorted and delivered to the exact production line at the exact time without workers lifting their fingers.
"The key to making this smart manufacturing happen is the collaborative digital platform that is based on PLM software, which is widely used by auto, aerospace and aviation companies," Grindstaff said.
"As many as 19 out of the top 20 aviation companies in the world use Siemens' PLM software, such as Boeing and Airbus."
One mainland analyst said the technology was promising and rapidly evolving on the Chinese mainland.
"PLM solutions are widely used in China in aerospace and aviation, military and automobile sectors," said Sun Fuquan, a researcher at the Chinese Academy of Science and Technology for Development.
"Sectors, such as food and beverages, can also make handsome gains from PLM solutions in the long-term," Sun added.