Not yet profitable, JD to spend on logistics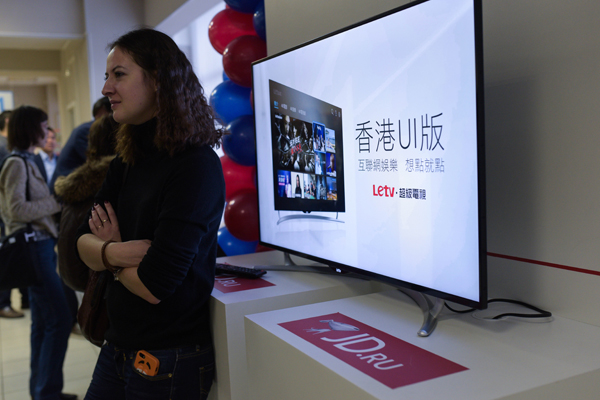 JD's booth at an expo in Russia where Chinese cross-border e-commerce firms impressed visitors. [Photo by Dai Tianfang/China Daily]
JD.com Inc is going to keep investing outside of its main e-commerce operations in order to build its business and deliver long-term profitability, Chief Executive Officer Richard Liu said, asking shareholders to be patient with the strategy.
"We want all of our shareholders to understand: JD isn't a company chasing a one-to-two, or two-to-three-year goal," Liu said in an interview in Beijing. "What we pay attention to is our profits after 10 to 20 years."
JD.com is Alibaba Group Holding Ltd's biggest competitor in China's online shopping market, which is on track to show almost $700 billion in spending this year, according to JPMorgan Chase & Co.
Unlike Alibaba, the Beijing-based company has invested heavily in its own fixed assets such as warehouses and delivery trucks to ensure good service, and facilitate the buying and selling of everything from electrical goods to boxes of kiwi fruit.
JD.com's logistics network has also helped win more users through speedy shipping, and the company is competing with Alibaba to sell consumer goods, electronics and home appliances. Liu pointed to stepped-up investments in logistics automation as well as financial and technology services as areas that will ensure success for China's second-largest online retailer for the coming decades. E-commerce is already contributing substantial cash flow, Liu said.
JD.com is on track to handle 14 percent of China's total 2016 e-commerce spending, compared with Alibaba's 78 percent, according to JP Morgan. The bank's analysts, led by Alex Yao, said in August that JD.com's gross-margin improvement was positive, but had a cautious view of its operating expenses.
"The investment for growth could delay JD's path to profitability," Yao said, pointing to rising expenses and competitive pressure from Alibaba.
On Oct 20, the company announced new initiatives in its partnership with Wal-Mart Stores Inc, including adding a Sam's Club to its website and two-hour delivery in select cities.
JD.Com is also pouring large amounts of capital into new ventures, including an expansion into Southeast Asia via Indonesia, new financial services such as online loans and cloud-computing products. Liu's strategy is to emulate Amazon.com Inc by investing early profits back into new and existing businesses to grow scale and market share, according to Mitchell Kim, an analyst at Kim Eng Securities.
"The asset-heavy model will probably not generate profit for the foreseeable future," Mitchell Kim said. "If you look at the margin difference of Alibaba versus JD, JD just does not have the profitability and cash-flow to invest in all these other new areas whereas Alibaba does."
BLOOMBERG