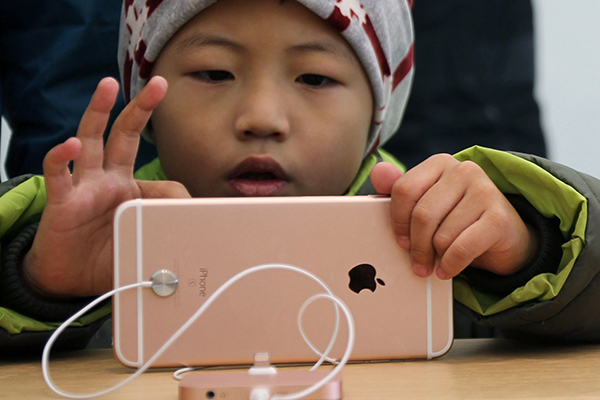 A boy plays with a smartphone in an outlet of Apple Inc in Qingdao, Shandong province. [Photo/China Daily]
China has surpassed the United States to become the world's largest iOS app market in the third quarter, according to a report released on Thursday by App Annie, a US-based mobile analytics company.
The company said that with 75 percent of revenue from games, China's iOS revenue exceeded $1.7 billion in the latest quarter, leading the US by more than 15 percent.
Haim Mendelson, professor at the Stanford Graduate School of Business, said that the Chinese mobile internet was moving ahead of the US and there would be more of the mobile innovations taking place in China.
"Because of the size of the Chinese market, the increasing number of people in the middle class who can afford an iPhone, and the increasing penetration and use of the mobile internet in China, there is already more money to be made on apps in China compared to the US.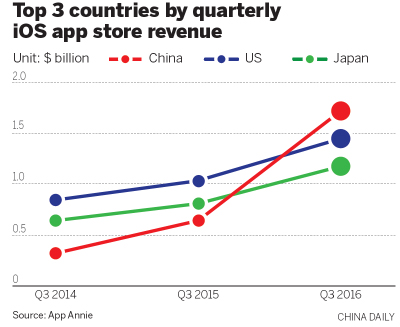 "This implies that investments in innovation will be increasingly targeted on the Chinese market, and coupled with the increase in innovative capacity in China."
Dai Bin, region director of Greater China at App Annie, said: "China earning the No 1 place in the iOS market by revenue is a huge milestone for the app ecosystem. As an app publisher or marketer, if China wasn't a key priority in your app strategy, it should be now."
Dai added that in terms of absolute revenue growth, games are followed by entertainment apps, with video streaming apps such as iQIYI, Tencent Video and Youku.
The report also shows that in China, the top grossing categories outside of games on iOS in the latest quarter involve entertainment, social networking books, photo and video, all of which have more than tripled in revenue year-on-year.
Another mobile market monitor Newzoo noted that by 2020, the global app market will increase to $80.6 billion, while the proportion of revenue in the games category will decline to 72 percent.
According to Newzoo, as the growth of revenue of games slowed, the non-games app will enter into a new stage of rapid development.
"There is a trend of content consumption. Before, the majority of internet users preferred to pay for real items. However, with an increase in average incomes, now more Chinese will pay for content consumption, such as watching online videos," said Xue Yongfeng, an analyst at Beijing-based internet consultancy Analysys.
China's iOS app revenue growth is set to continue, with the largest absolute revenue growth than any country by 2020, according to App Annie.