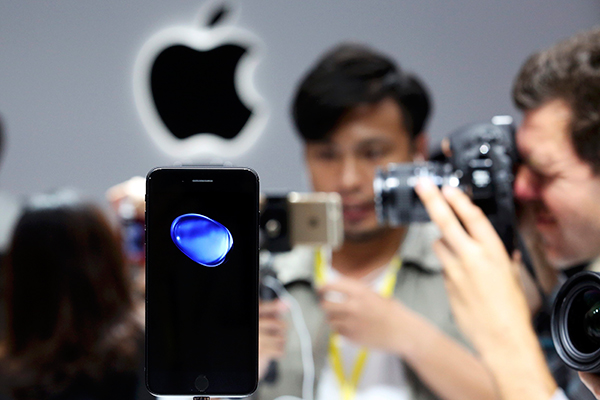 The iPhone 7 is shown on display during an Apple media event in San Francisco, California, US, September 7, 2016. [Photo/Agencies]
Due to the limited improvements seen in successive iPhone models and a wider range of alternatives from domestic smartphone makers, Chinese consumers are less enthusiastic about the upcoming iPhone, which will be unveiled on Thursday Beijing Time, experts said.
Sina Weibo, the Chinese counterpart of Twitter, shows that in the month before this year's launch, the new iPhone has only attracted one fifteenth as many comments as the iPhone 6 managed to generate during the same period last year.
This is echoed by the latest data from China's biggest search engine Baidu Inc. In July, there were only 96.8 million iPhone-related searches, marking a 27 percent drop from last year's figure.
James Yan, research director at Counterpoint Technology Market Research, said that as Chinese firms make big improvements on hardware components, consumers become less eager to talk about Apple Inc's new products.
"Smartphone hardware is no longer Apple's edge, because the market is now very mature and it is highly difficult to come up with innovative products that can thrill everyone," Yan said.
According to him, local vendors such as Huawei Technologies Co Ltd are catching up quickly, and even outdoing Apple hardware.
The declining popularity of iPhones highlights the challenges Apple is facing in China, which was once the firm's fastest-growing market, but has recently become a source of disappointments. In the quarter ended in June, Apple saw a 33 percent drop in sales in China.
Wang Wanli, a 26-year-old sales manager in Beijing, said he has been using iPhones for three years and now is considering whether to buy an iPhone 7 or Moto Z, the latest handset released by the Chinese vendor Lenovo Group Ltd.
"I don't expect a big improvement in the iPhone 7. But, I am quite familiar with Apple's operating system," he added. "At the same time, Moto Z is the world's first modular handset and sounds very interesting. I want to have a try."
Wang is not alone. Of five consumers China Daily randomly interviewed on the street on Wednesday, not one of them is ready to buy the new iPhone, citing the expensive price tag and limited improvements as major concern.
Nicole Peng, research director at Shanghai-based consultancy Canalys, said Apple still dominates the above-3,000 yuan ($450) handset market where most consumers remain loyal to the brand.