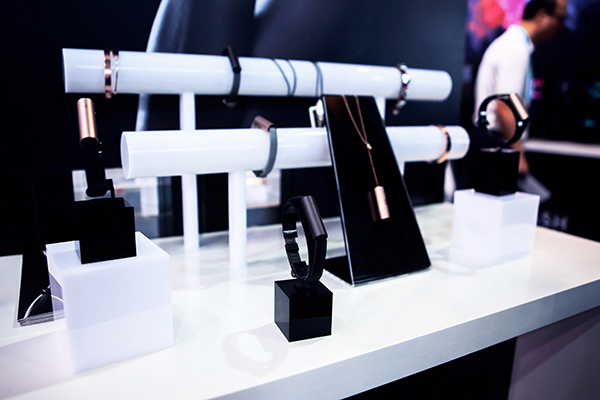 Consumers can expect to see more wristbands in the market that caters to specific needs.[Photo provided to China Daily]
Liu Shiyuan already wears three smart wristbands, and based on what she found out at the recent CES Asia 2016 Shanghai, it's likely she'll soon have to add a few more.
"I have one that keeps track of health data such as heart rate and body temperature, another that is like a bluetooth telephone which is connected to my handset and the third one is a location tracker. Can you integrate all these functions so that I can save some space on my wrist?" joked Liu to a developer at the event.
"No. I believe that wearable devices will only become more fragmented and differentiated in the future," replied Wang Yue, a wearable device developer from Shenzhen.
Liu is not the only consumer who is calling for greater levels of integration. Others have said that there are just too many options these days.
"Consumers are going to get confused with all these choices. Perhaps wearable devices could in the future become something like a smartphone - a device that you can use to perform a variety of tasks. We don't want to have to wear multiple bands on our wrists," said Chang Ying, a 29-year-old consumer and wristband collector in Shanghai.
According to a research report by GfK Retail and Technology China Co Ltd, a market research and consultancy services provider, some 31.6 million pieces of wearable devices are expected to be sold in China in 2016, many of which will focus on specific audiences.
The product created by Wang's company is one ideal example - it specifically targets fishing enthusiasts. The wristband comes with a small sonar device that can be placed in the water to detect movement, allowing an angler to identify the best fishing spot.
The GfK report also revealed that wearable devices targeting certain consumer segments or those that fulfill particular functions such as payment or health, will become a major category in the market alongside traditional smart watches.
The smart ring that can display health statistics by Shenzhen-based Kingee Intelligent is one device that fits this category. It is targeted specifically at women.
Experts noted that future generations of wearable gadgets will likely be very sophisticated Internet of Things (IoT) devices.
"It is likely that in just five years, by when the IoT will have become widely acceptable, you'll be receiving a message on your wearable device telling you that your toaster is broken," said Lee S Gill, JDA Global Head, Retail and Omni Channel Strategy.
"Your device will then automatically present you with a list of options: the types of new toasters you can buy, the telephone number for a repair man, or how you can use your 3D printer to print a set of spare parts."