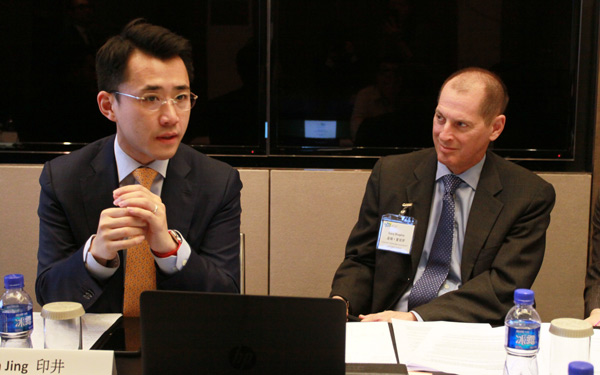 Yin Jing (left), president of Tmall 3C & Home Appliance Business Unit of Alibaba Group and Gary Shapiro, president and CEO of Consumer Technology Association, speak to the press on April 5, 2016 during a press conference held in Beijing. [Photo provided to chinadaily.com.cn]
Consumer Technology Association (CTA), owner and producer of the International Consumer Electronics Show (International CES) will work with Chinese e-commerce giant Alibaba to hold the second CES Asia in Shanghai next month, CTA announced on Tuesday.
While the International CES, held in the United States since 1967, is open to all types of technology companies, the CES Asia "is limited to two types of companies: the company should have a well known brand name or they must have innovative technologies", said Gary Shapiro, president and CEO of the CTA.
This year's event will be held May 11-13 in Shanghai. The inaugural Asian version of the US-based CES was held last May at the Shanghai New International Expo Center.
This year's event will be double the scale of last year's, Shapiro said.
"Spanning up to 40,000 gross square meters (20,000 net square meters) of exhibit space, CES Asia 2016 will feature more than 300 exhibiting companies highlighting breakthrough technologies across 15 product categories -- from 3D printing and smart home technology to robotics, wearables, vehicle technology and more," CTA officials said in a press release.