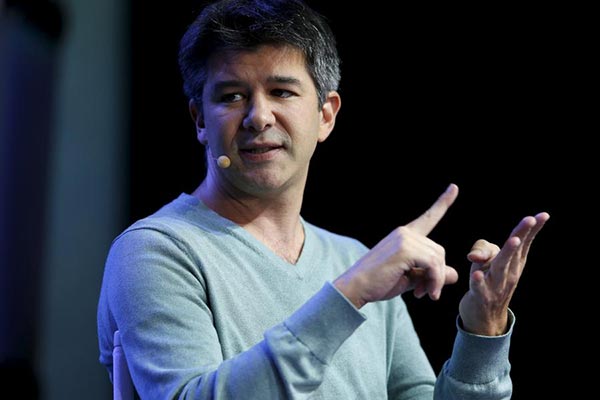 Travis Kalanick, co-founder and CEO of Uber Technologies Inc. speaks at the Wall Street Journal Digital Live ( WSJDLive ) conference at the Montage hotel in Laguna Beach, California October 20, 2015. [Photo/Agencies]
Travis Kalanick, CEO of Uber Technologies Inc, said on Friday the US car-hailing platform will build offline stations in China to help match passengers with drivers.
Speaking at an innovation conference in Beijing, Kalanick said, the first offline station is already operational in Beijing and more will be built in 2016 to help passengers quickly meet drivers in China's complex urban environments.
Currently, Uber is locked in a fierce battle with local player Didi Kuaidi, with both spending millions of dollars on user and driver subsidies.
When asked about whether Uber worries that users will gradually disappear along with dwindling subsidies, he said, "I worry about it every day."
"Chinese entrepreneurs are great innovators of subsidies. I have to catch up to learn how to creatively hand out subsidies."
He believes the key to surviving the competitive cash-burning war is to balance the money you spend and the value you create.
"You cannot just spend money. When you must spend it, you should spend it most efficiently," Kalanick said.
Uber said earlier its China unit has closed a funding round and that its investors from China include Hainan Airlines (HNA), China Life Insurance and CITIC Securities. Before the funding round, the China unit was valued at $7 billion.