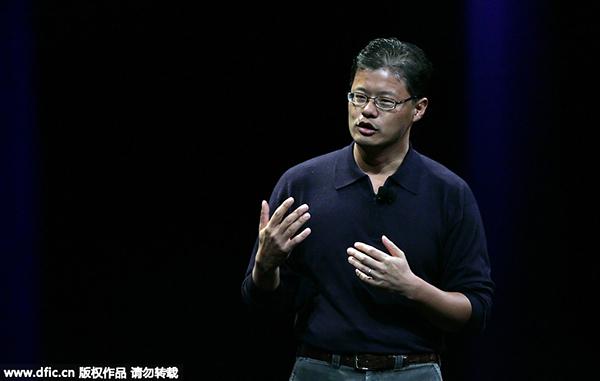 Jerry Yang, founder of Yahoo and independent non-executive Director of Lenovo. [Photo/IC]
"Given my experience in the US and my experience in China, the best dialogues between China and US are always almost entrepreneur to entrepreneur," said Jerry Yang, founder of Yahoo and independent non-executive Director of Lenovo, during the Second World Internet Conference on Thursday.
"When two entrepreneurs get together, languages barriers go away, and nationality barriers also go away… We should encourage more startups, whether they are US companies or Chinese companies, to talk to each other, have more dialogues and maybe have more access to each other", he said.
"When companies get bigger, things become more complicated. If we are entrepreneurs and startups, many things could be done."
The Second World Internet Conference, the most high-profile Internet related event in China, is taking place in the picturesque water town of Wuzhen, Zhejiang province, Dec 16 to 18.
The conference, with a goal of "building a cyberspace community of shared destiny", has gathered together more than 2,000 participants, including state leaders, government officials, business leaders, Internet titans, and experts from more than 120 countries and regions.
The guests at 10 forums will exchange views on a wide range of topics such as Internet culture communication, Internet innovation and development, digital economic cooperation, cyber security, Internet plus, cyberspace governance and the digital Silk Road.
Furthermore, the conference will review the achievements of China's Internet development over the last two decades and look into the future by displaying a treasure house of the latest technical inventions.