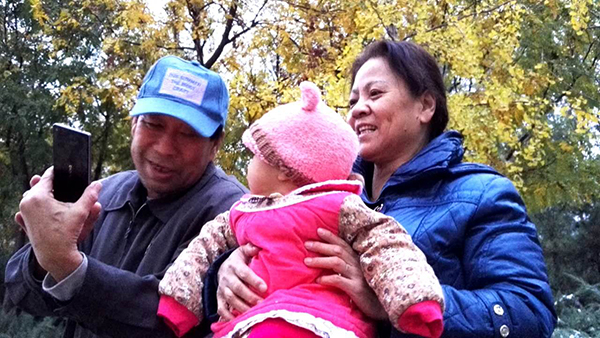 Grandpa tries his new smartphone as grandma and granddaughter look on at a park in Beijing on Nov 6, 2015.[Photo by Song Jingli/chinadaily.com.cn]
On October 25, when my family was sharing photos and videos via WeChat, my mother-in-law's smartphone went down all of a sudden. She tried many times to restart it, but failed.
The urgent task to buy a new one for her fell on me. She wanted a reasonably priced phone that featured a camera that was as good as possible and an operation system that ran smoothly.
All possible choices quickly narrowed down to a Huawei Honor 7 smart phone.
The phone arrived the next morning from a courier of JD, an online retail platform , after I ordered the previous night. It was China speed, I guess.
The phone astonished us as it was more than what she wanted.
She could actually talk with this $343.9 phone, ask various questions, such as how to go to the Badachu park in Northwest Beijing from our home in Northeast Beijing. It surprised her as the solution provided by the phone was exactly the same as the solution I found by typing and searching in Baidu. When she forgot where she had put the phone, she could get a response from it by simply saying "Where are you, little Seven?"
Every time she wanted to unlock the phone, all she needed to do was to press the phone with her finger, which made her feel that it was really "her" phone.
All these were brand new things for a 60-years-old grandma. And, to be frank, also new for me, as this was achieved by a "Chinese-brand phone", not an expensive device like an iPhone.