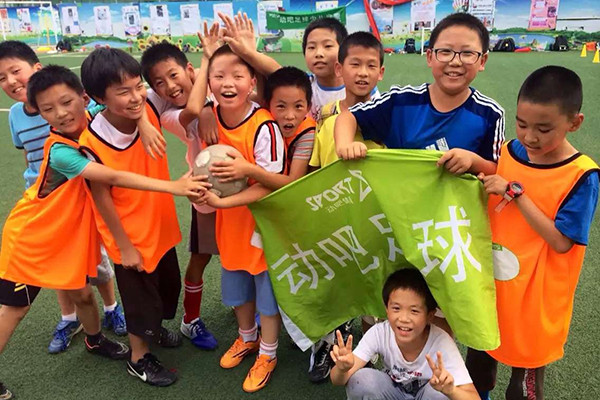 A group of children pose for the camera during a training session organized by Sport8 in Beijing. [Photo provided to China Daily]
Sport8 invests $1.5 million into its business model, but is already pulling in sponsorship deals
Entrepreneur Bai Qiang is so confident that the business of soccer will be the next big trend that his company pumped 10 million yuan ($1.5 million) into an online venture.
Sport8 was launched last year and has already raked in 5 million yuan in sponsorship deals from international companies such as Italian sportswear group Kappa Kids and Gatorade Co Inc, the giant beverage firm in the United States.
Set up with the help of China's most famous sports commentator Huang Jianxiang and former Dutch national star Wesley Sneijder, the company specializes in soccer education.
"We see a great business opportunity in coaching children in the skills of soccer because the government is pushing for sports development to be the next big industry in China," CEO Bai said.
Sport8, which has also created summer soccer camps with major English Premier League clubs Arsenal and Manchester United, has a simple business plan.
Most of the $1.5 million in financing has been plowed into developing a mobile app and training coaches across China.
Prospective coaches sign up on the app and are trained free of charge. The app also helps parents find established soccer schools for their children.
"We have Internet tools that help us recruit people who want to become coaches," Bai said. "Then, our mobile app connects them with parents and soccer schools who are looking for their skills."
Most of the coaches are part-time and joined the online program because of their love for the game and the chance to earn extra cash.
This business model is based on Uber Technologies Inc, the car service company that puts part-time taxi drivers in contact with potential passengers in the United States and 57 other countries.
"In China, teaching soccer to kids has been generally considered a hobby rather than a full-time job because it is not particularly well-paid," Bai said. "That is why we decided to opt for a business model similar to Uber's."
Due to the lack of qualified coaches in China, Sport8 provides professional training free with the help of 37 foreign coaches, mainly from the Netherlands.
"Using foreign coaches is a good idea since China's coaching system is quite weak," Xerman Lopez, a professional Spanish soccer coach in Beijing, said. "The app can be useful if soccer is regarded as an entertainment activity."