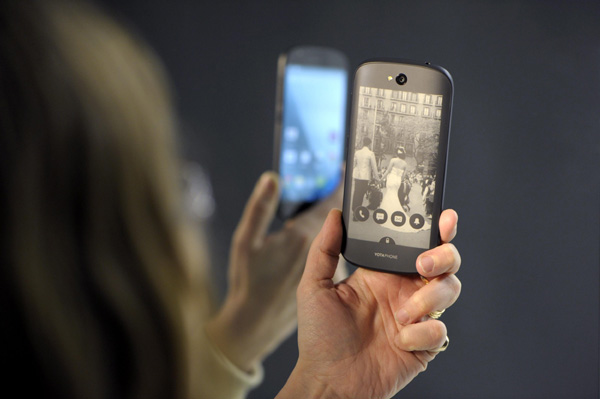 The Yota Phone 2, a double screen Android-based smartphone, is pictured in Helsinki January 29, 2015. [Photo/Agencies]

Acquisition to help Russian mobile firm expand in China
A Chinese investment firm has bought a majority stake in Yota Devices, the Moscow-based maker of the unique dual-screen smartphone given as an official gift by Russian President Vladimir Putin last year to President Xi Jinping.
Hong Kong-listed REX Global Entertainment Holdings Ltd paid $100 million for its controlling 64.9 percent stake in the business, which it bought from investment company Telconet Capital Ltd Partnership.
The remaining shares in the company are held by Rostec Corp, the Russian state corporation, and Yota's management team.
Telconet said it had received a number of bids for the company-from China, Europe and the Middle East-but that REX's offer was "the most attractive".
Vladislav Martynov, Yota's founder and CEO, said the investment will be used to develop a cheaper, third-generation device, which is expected to debut in mid-2016.
"The partnership with REX is going to augment our capabilities to continue with global expansion and to penetrate new markets," he said, adding the next five years will see "a range of new devices and a larger distribution network".
A statement from Rostec said the investment would help Yota become more focused on Southeast Asian markets, although the Russian market would remain one of its strategic priorities.
It also claimed that REX was planning to inject $50 million into Yota to fund business development, but the new owner did not confirm this information with China Daily.
Yota introduced its second-generation YotaPhone 2 into China in May after Putin had presented one to Xi during his visit to Beijing, in November last year.
The company is said to be hoping to attract electronic book lovers, particularly, with its Kindle-like electronic paper display. The YotaPhone sells for 4,888 yuan ($770), just 400 yuan cheaper than the iPhone 6S.
Reaction to the device so far has been disappointing, however, certainly compared with market-leading Apple Inc products.
Market consultancies are yet to track shipments of YotaPhones, because sales are considered too weak to affect market statistics.
Yota and its local partners have never disclosed sales information in China, the world's largest smartphones market.
The number of smartphones sold in the country dipped by 3 percent in the first five months of this year, prompting industry watchers including Analysys International to suggest the huge sales increases of the past are unlikely to be repeated.
"The market is increasingly mature and the fight among vendors is the toughest of all time," said Wang Jingwen, an analyst from research company Canalys China.
"Given this background, small companies will find it particularly difficult to survive."
Xiaomi Corp, once China's biggest brand by shipment, conceded its market lead to Huawei Technologies Co Ltd during the third quarter, according to Canalys, as it urgently sought new ways to lift its sales of products below 3,000 yuan.