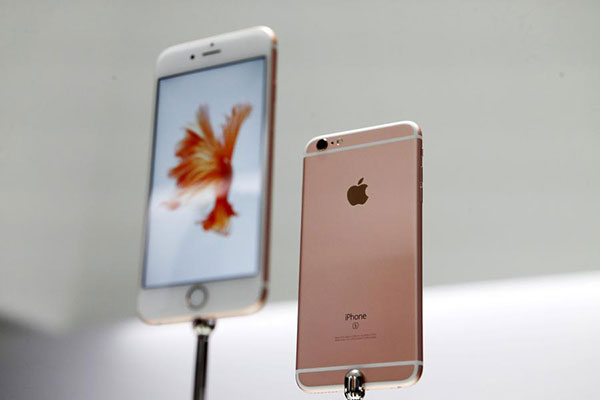 The new Apple iPhone 6S and 6S Plus are displayed during an Apple media event in San Francisco, California, September 9, 2015.[Photo/Agencies]
BEIJING - An innovative stage in the production of the latest iPhone models might help all its suppliers, especially those in China, to cut carbon emissions and improve efficiency, according to an Apple executive on Monday.
"The biggest change is in the aluminum enclosure," said Lisa Jackson, vice president of environment, policy and social initiatives at Apple. "We are able to cut carbon emissions for manufacturing that part of the phone by half."
Apple has reduced the carbon emissions of the iPhone 6s and iPhone 6s Plus by 16 percent and 14 percent, respectively, from last year's models, according to the product environmental report on its website.
Apple has re-engineered the way it makes its phone enclosures, so that less aluminum scrap is generated, Jackson told Xinhua through a telephone interview, adding that most of the enclosures are manufactured in China.
Meanwhile, hydroelectric power is used during aluminum smelting rather than fossil fuels like coal, Jackson said.
It is important since "it makes our supply chain in China as well as in other places more efficient, and we use less energy and get more out of the aluminum," she said.
Apple has worked hard toward its environmental and climate commitments in recent years. To date, all its facilities in the United States use 100 percent renewable energy, while globally it is 87 percent.
Apple is building a 40-megawatt solar power project in southwestern Sichuan province. The project, the first of its kind the company has launched outside the United States, will add 80 million kilowatt hours of clean energy to the grid annually.
When completed, by the end of this year, the project is expected to produce enough energy to power all Apple's facilities in China. Currently, Apple has 19 corporate offices, including 17 in the mainland and two in Hong Kong, as well as 20 retail stores in Chinese mainland and four in Hong Kong.
Apple feels obligated to cut carbon emissions in its supply chain, which is responsible for 72 percent of its total carbon footprint, Jackson said.
Re-engineering the production process of aluminum enclosures is a step forward.
"It's the beginning of our answer to the problem of how to reduce the carbon footprint of our supply chain," Jackson said. "I think China benefits from this."