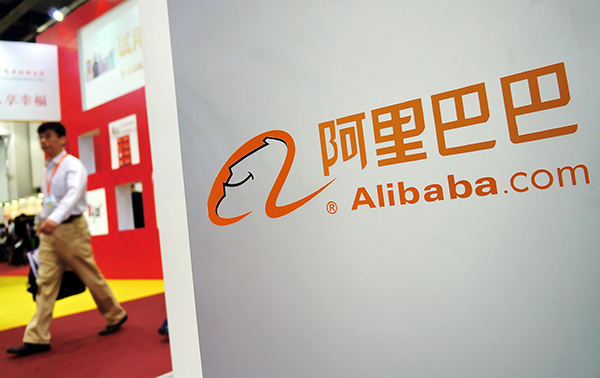 The booth of Alibaba Group Holding Ltd at an expo in Shanghai. [Photo/China Daily]
Alibaba Group Holding Ltd set a record with the size of its initial public offering. Now five times that amount of stock just became available, and all eyes are on Yahoo Inc.
The lockup on 63 percent of Alibaba shares ended on Saturday. In premarket trading, the company shares fell by 1.2 percent on Monday in New York. With Yahoo still working out what to do with its 15 percent stake, investors battered by the e-commerce company's $128.5 billion market slump are bracing for the worst, such as the possibility of more shares hitting the market and driving prices down further.
Billionaire founder Jack Ma and Vice-Chairman Joseph Tsai have pledged to keep their stock, while analysts expect SoftBank Group Corp to hold onto its shares as the Japanese company parlays its Alibaba windfall into global expansion. SoftBank declined to comment.
Yahoo is the biggest investor that has not pledged to keep its holding, with Chief Executive Officer Marissa Mayer weighing a spinoff of the $25 billion stake. While Mayer was planning to move Yahoo's 384 million shares in Alibaba into a separate company without paying taxes, there is uncertainty on whether Yahoo can exit without incurring a multibillion-dollar tax bill after the United States' Internal Revenue Service did not give it a preliminary green light.
"You can't ignore the fact that there is a potential seller in the market-and that has to create some sort of uncertainty around Alibaba shares," said Victor Anthony, an analyst at Axiom Capital Management. "I do think that Yahoo ultimately proceeds with the spinoff."
A delay in Yahoo's plan could potentially help bolster Alibaba's price because investors would have to wait for access to the spinoff's shares, effectively making it an extended lockup, Anthony said. The main issue is the performance of Alibaba's main business, he said.
"It's a non-event for both stocks, ultimately-as long as Alibaba continues to perform," Anthony said. "If it does, then I think the lockup's expirations almost become a moot point."
Rebecca Neufeld, a spokeswoman for Sunnyvale, California-based Yahoo, declined to comment.
Lockup agreements are put in place to keep a company's share price stable after a market debut, preventing employees and pre-IPO investors from dumping the stock.
The end of a lockup period can be positive for a stock by ending the overhang from an IPO months or even years earlier. Facebook Inc has climbed more than fourfold since its biggest parcel of shares was released in November 2012.
"It's typically a catalyst for stocks, but I do think there's going to be another two to three tough quarters for Alibaba," said James Cordwell, a London-based analyst at Atlantic Equities LLP. "There could be a bit of recovery as we get over the lockup."