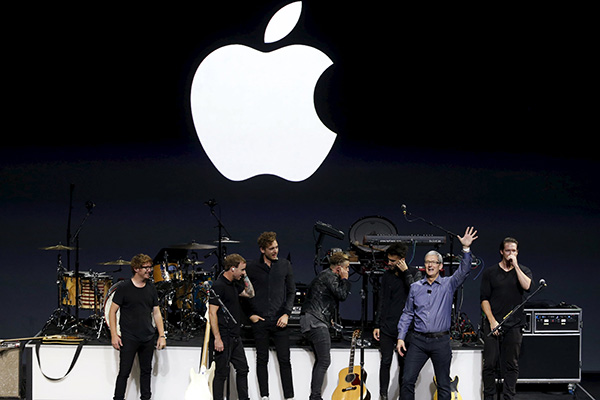 Apple Inc's CEO Tim Cook waves to the audience after a media event in San Francisco. Cook introduced a fair number of new devices at the event. [Photo/Agencies]
New offerings look weak compared to products on the market from top-tier Chinese companies
Apple Inc's nothing-to-be-excited-about product rollout on Thursday made the world wonder if the electronics giant is losing its innovation power-and worse, its grasp of the Chinese market.
CEO Tim Cook introduced a fair number of new devices during its launch event in San Francisco: a new Apple TV, for instance, that stands no chance of entering China, and a bigger iPad with a stylus that his predecessor, the late Steve Jobs, famously hated.
The company's next-generation smartphones, the iPhone 6S/Plus, have been packed with routine updates on its camera, processor and the color of its case-but those looked especially weak lined up against top-tier Chinese vendors, which are already denting the high-end market with the launch of their own innovative handsets.
"Camera capability is actually one key feature that Chinese consumers do care a lot about," said Nicole Peng, China head of industry consultancy Canalys.
"But for Chinese consumers, especially those who already own an iPhone 6/Plus or 6S/Plus, they are not appealing enough to upgrade."
Peng said the new devices from Chinese vendors such as Huawei Technologies Co Ltd and Lenovo Group Ltd are now stronger opponents in the mid-to-high end markets that Apple and Samsung Electronics Co Ltd have long dominated.
The Chinese smartphone market is a must-win for Apple. The country contributed 27 percent of its revenue in last quarter and its iPhones helped it generate the majority of that. But the market is no longer a place to make easy money.
Industry research firm IDC said because there are fewer first-time smartphone buyers in China, only 430 million smartphones are expected to be sold in 2015, a negligible 1.3 percent increase on a year ago.
Apple's new technologies are simply not new enough to tempt Chinese buyers, indicating the US giant is losing its edge in product design.
Huawei's new flagship, the Mate S, and Lenovo's Moto X Style, already have screens that respond to different touch forces or an always-on voice assistant-both key features Cook was eager to talk about at the event.
Those two devices cost about 1,000 yuan ($157) less than the cheapest iPhone 6S, which will be sold at 5,288 yuan.
James Yan, an IDC analyst, said the days of robust iPhone's shipments to China have ended, and expects only moderate growth in the future.