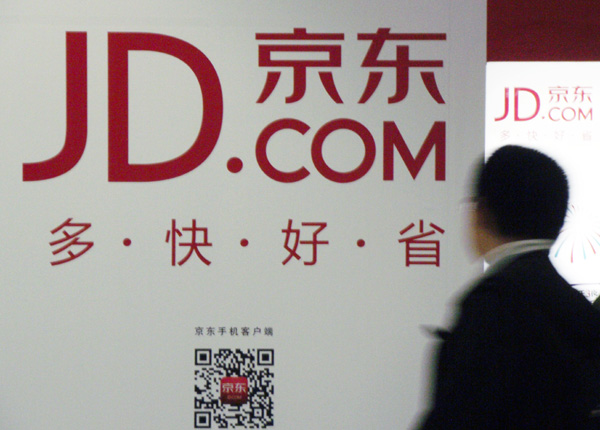 A man walks past an adevertisement for JD.com in Nanjing, capital of East China's Jiangsu province on June 12, 2013. [Asianewsphoto by Zhen Huai]
BEIJING - Customers placed more than 15 million orders with JD.com on Thursday, the retailer's 12th anniversary, more than double the figure during the same promotion last year.
The NASDAQ-listed online retailer often uses its anniversary to promote sales. The retailer offers discounts through its mobile apps and more than 60 percent of Thursday's orders were placed through mobile gadgets. Tencent took a 15 percent stake in JD.com prior to its IPO last year and allows JD access to 500 million users on its instant messaging app WeChat.
The retailer did not disclose the total value of goods sold on Thursday but said in a press release that imported products sold well. Imported infant care products such as diapers and milk powder sold nearly 20 times more than average. Imported cosmetics grew by a similar amount while sales of imported food quadrupled.
JD.com launched a site in April exclusively selling imported products ranging from cosmetics and clothing to fresh farm produce and meat.
The retailer agreed with the Canadian government on Thursday to sell Canadian seafood as part of an expansion to meet Chinese consumers' growing appetite for what they see as quality products from abroad.
Alibaba's Tmall, Amazon.com, Walmart's Yihaodian and other smaller online retailers specializing in selling clothing, food and consumer electronics all launched sales campaigns this week. Consumption has been one of the few bright spots for the Chinese economy this year. Online sales growth is widely seen as behind retail growth this year.
China's online retail sector expanded to 2.8 trillion yuan in 2014, 10.7 percent of total retail sales. Sales on mobile devices now take up about one third of total online sales and are on track to take more than half of sales online in 2016.