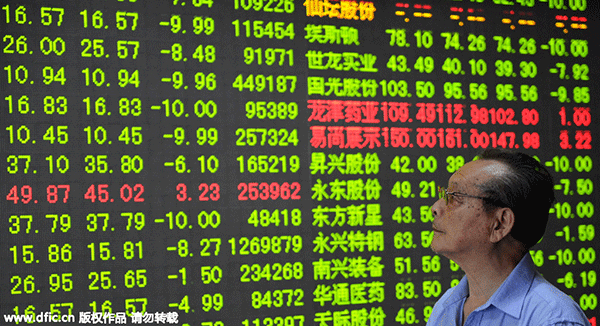 A concerned Chinese investor is pictured in front of a screen displaying prices of shares at a stock brokerage house in Hangzhou city, East China's Zhejiang province, June 19, 2015. [Photo/IC]
Stocks slid on Friday, with the benchmark Shanghai index ending its worst week since the global financial crisis.
The Shanghai Composite Index sank 6.4 percent to 4,478.36, extending its weekly retreat to 13.3 percent, while the Shenzhen Component Index closed at 15,725.47 points, down 6 percent.
The Chinext Index, which tracks China's Nasdaq-style board of Shenzhen-listed growth enterprises, dived 15 percent this week closing at 3,314.98, paring its six-month gain to 108 percent.
About 960 Chinese stocks edged down on Friday, led by transportation, nuclear energy, healthcare and Internet-themed companies.
A flood of new listings starting Wednesday is a reason behind the rout, as subscription for the 25 IPOs may tie up 6 trillion yuan ($970 billion) of capital and sparked liquidity concerns for existing equities, said analysts.
"The bullish sentiment hasn't changed," said Xun Yugen, chief strategist at Haitong Securities, in an note on Thursday, adding that the correction is like "altitude sickness" that only came after hefty surge.
The Shanghai gauge has jumped more than 38 percent since the beginning of this year and 121 percent over the past 12 months.
However, Hong Hao, chief strategist at BOCOM International Holdings, warned that the coming six months will be a critical time window to monitor for potential crash in a note released on Tuesday.
"As extreme returns with small possibility pile up, gains must accelerate to compensate excessive risk undertaking. But the probability to sustain such excess diminishes, too, much like being dealt straight flush every hand," he said.