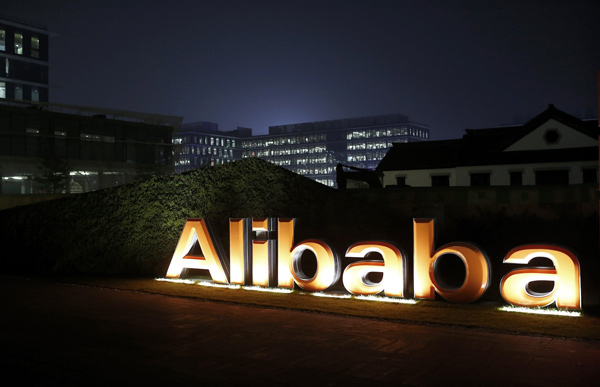 The logo of Alibaba Group is seen inside the company's headquarters in Hangzhou, Zhejiang province early Nov 11, 2014. [Photo/Agencies]
Chinese e-commerce giant Alibaba is about to produce a high-end game console to compete with Microsoft's Xbox One and Sony's PlayStation 4 in its domestic market, according to venturebeat.com citing market consulter Niko Partners.
According to venturebeat.com, Lisa Cosmas Hanson, the managing director at Niko Partners, disclosed in an email by quoting a credible source that Alibaba may release the machine early next year. An unconfirmed Twitter account "Lisa Hanson @nicochina" also twitted the same news on Dec 11.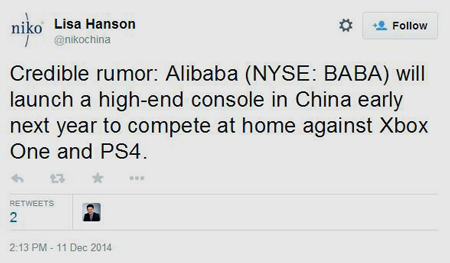 An unconfirmed Twitter account named "Lisa Hanson" twittes about Alibaba's
rumor
on game console on Dec 11, 2014. [Photo captured from Twitter]
Hanson has not confirmed the rumor and a spokesperson for Alibaba said it does not comment on market rumors or speculation, said venturebeat.com.
This is not the first push that Alibaba is reportedly planning to counter its domestic competitor Tencent in the gaming market.
Early this year, the e-commerce titan had announced a $120 million strategic investment and a partnership with US-based gaming company Kabam Inc to publish and distribute its free-to-play mobile games. It was also the lead investor in a $280 million round of funding for the US free-calling app Tango, "which has mobile messaging service that is targeting game players", said venturebeat.com.
In November, Alibaba joined hands with Shanghai Media Group to take Rovio's Angry Birds: Stella into China, and in the same month, Alibaba's Digital Entertainment Business Group formed partnership with Ubitus Inc to launch a cloud gaming service in China.
In 2013, the China (Shanghai) Free Trade Zone was established, allowing foreign video game hardware makers to set up physical stores and produce hardware and content for sale in the domestic market.
Sony Computer Entertainment Shanghai and its domestic partner Shanghai Oriental Pearl Group said in a joint statement that the PlayStation 4 console and PlayStation Vita hand-helds would hit the market on Jan 11, 2015.
Microsoft, as Sony's competitive rival in the sector, launched the Chinese version Xbox One gaming console in partnership with Chinese Internet television company BesTV, across 37 cities in China on Sept 29, 2014.