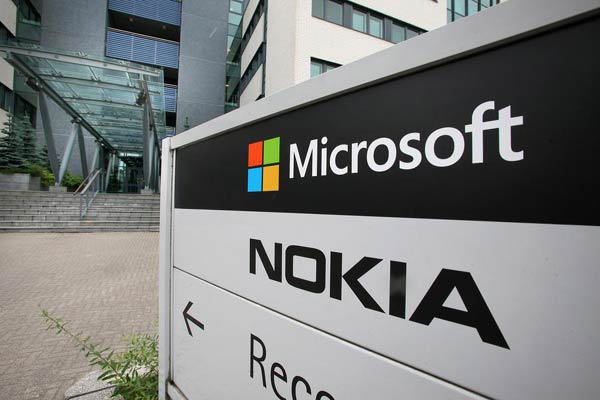 A view of Microsoft and Nokia signs in Peltola, Oulu July 16, 2014. [Photo/Agencies]
Microsoft Corp said in a statement that it aims to get its loss-making Nokia phone unit to break even within two years.
The world's largest software company reported a 7 percent dip in quarterly profit on Tuesday, chiefly due to incorporating the struggling handset business of the Finnish mobile pioneer.
Microsoft's chief financial officer said in a call with analysts that the company plans to take $1 billion in costs out of the Nokia operation and stop its losses by fiscal 2016 - which ends in June 2016 - following massive job cuts announced last week.
That cheered Wall Street, which was not expecting such decisive action.
"The expense guidance around Nokia was much better than feared," said Daniel Ives, an analyst at FBR Capital Markets. "While there is still some heavy lifting ahead, it appears
bright
er days are on the horizon for Microsoft after a decade of pain and frustration."
Nokia, which Microsoft bought in April for $7.2 billion in an attempt to take on Apple Inc and Samsung directly in the fast-growing smartphone market, added almost $2 billion to Microsoft's quarterly revenue but posted an operating loss of $692 million, which included some one-time costs.
Nokia's Lumia smartphones, while well-reviewed, have not been as successful as Microsoft hoped, capturing no more than 4 percent of the global market. Lumia sales hit 5.8 million for the nine weeks of the quarter that Nokia was part of Microsoft. That compares with 35.2 million iPhone sales in the quarter.
Microsoft is in the process of drastically reducing Nokia's operation, closing some facilities and cutting about half of its 25,000 workforce, as it looks to rein in costs and refocus on cloud-computing under a plan launched by new Microsoft Chief Executive Satya Nadella last week.
"We will be relentless in our focus on our core, agile work and life experiences and the two platforms that support it, the cloud operating system and the device operating system and hardware," said Nadella during the call with analysts.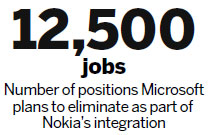 A slight recovery in the personal computer market, which was essentially flat over the past three months after two years of declines, helped sales of Microsoft's core Windows and Office products in the quarter.
Overall quarterly revenue rose 17 percent to $23.38 billion, above analysts' average estimate of $23 billion, although the bulk of that was due to the addition of sales from Nokia.
Microsoft reported fiscal fourth-quarter profit of $4.61 billion, or 55 cents per share, compared with $4.96 billion, or 59 cents per share, in the year-ago quarter.