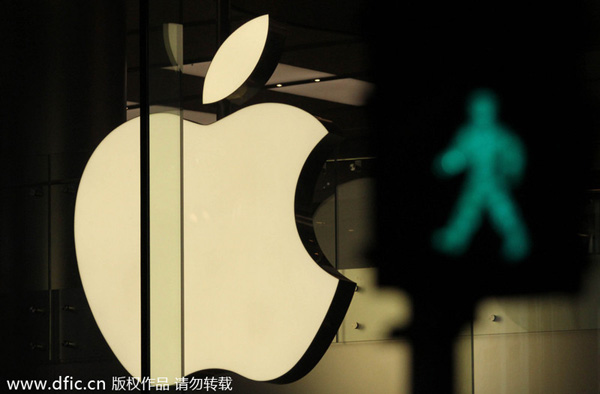 Apple trademark lights at Wangfujing street in Beijing, Oct 18, 2012. [Photo/IC]
The location-based services provided by iPhones are not likely to pose a threat to national security, a senior industry researcher told China Daily after a State broadcaster criticized Apple Inc of collecting sensitive data in China without user permission.
Consumer data, particularly through authorization of personal data access on mobile devices, is not new and has been inadequately protected by many phone manufacturers and app developers in China, said Bryan Wang, China head of industry consultancy Forrester Research Inc.
"The tracking of location features is almost standard across all major smart phone vendors and platforms globally," Wang said.
China Central Television, the biggest TV broadcaster in the country, said on July 11 that data acquired by iPhone's "frequent locations" feature may threaten State secrets.
"Apple has never worked with any government agency from any country to create a backdoor in any of our products or services," Apple said.
Apple was singled out by State media probably because Sino-US negotiation on information security issued has entered a critical phase, said Wang.
China and the US have clashed over cyber espionage concerns. Microsoft Corp, IBM Corp and other US tech companies' products have been barred from government procurement projects since May after the US charged five Chinese military officers with stealing business information online.
China denied the accusation and called it "a lie".
Analysts believe the top US tech enterprises will face a hard time in China because of friction between the nations.
China is not likely to ban government officials from using iPhones in the near future because most government agencies do not offer corporate-owned mobile devices to their employees, said Wang.
China's first lady Peng Liyuan was spotted using an iPhone 5 last year during a State visit with president Xi Jinping. Chinese media warned of security concerns and Peng changed to a gadget made by a local manufacturer.
Apple's China revenue is the largest among all US tech companies amid growing smart phone sales.
The company has roughly five to six percent of market share, far behind Samsung Electronics Co Ltd, Lenovo Group Ltd and Huawei Technologies Co Ltd which enjoy double-digit market shares in the past quarter, according to data from local research firm Analysys International.
Apple is also planning 10 more retail stores in second-tier Chinese cities in a bid to boost sales of its soon-to-be released new iPhones. Staff recruitment is underway according to the company's website.