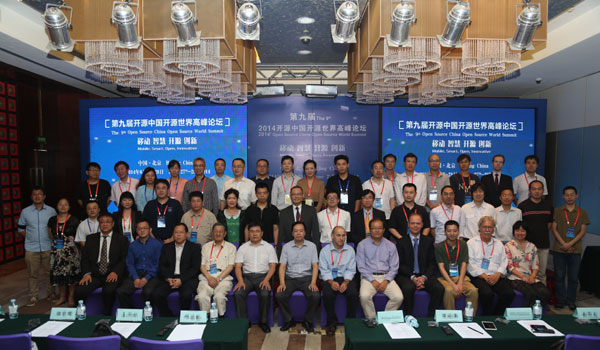 Industry insiders take a group photo at the 9th Open Source China Open Source World Summit in Beijing, June 27, 2014. [Photo/Provided to chinadaily.com.cn]
The 9th Open Source China Open Source World Summit concluded in Beijing on Saturday.
The two-day event kicked off on Friday, with the theme "Mobile, Smart, Open, Innovation".
China's open-source software industry shows bright momentum, Qiu Shanqin, head of China OSS Promotion Union, the organizer of the event, said at the summit.
The industry sees its size growing bigger each year, and big players in this sector have lined out clearer blueprints for their future development, Qiu said.
China is home to the world's second most active open-source communities after the US, with 7,400 programs in progress, according to Qiu
Open-source software is computer software with its source code made available and licensed with a license in which the copyright holder provides the rights to study, change and distribute the software to anyone for any purpose.
Linux is a mostly Portable Operating System Interface-compliant computer operating system assembled under the model of a free and open source software development and distribution, according to the Wikipedia.
As of June 2013, more than 95% of the world's 500 fastest supercomputers run some variant of Linux, according to a biannual Top 500 list of supercomputers.
The world's fastest supercomputer, China's Tianhe-2, also runs on the Linux system, according to Qiu.
"Linux is the best and most economical operating system," Qiu said.