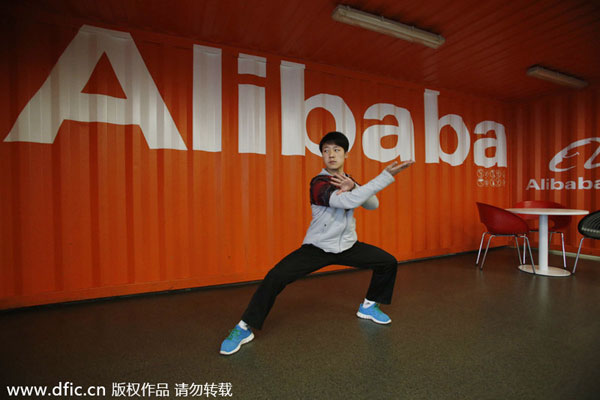 A staff performs shadow boxing during an open day at the Alibaba Group in Hangzhou in east China's Zhejiang province, March 26, 2013. [Photo/dfic.cn] 
HANGZHOU - Chinese e-commerce giant Alibaba Group announced on Monday that it will pay HK$5.3 billion ($692 million) to acquire shares of Hong Kong-listed department store operator Intime Retail Group Co.
Intime's stocks were opened at HK$10.50 per share on Monday, 16.28 percent higher than the previous trading price.
Under the two companies' agreement, Alibaba will acquire 9.9 percent of Intime's shares for HK$1.6 billion, while buys HK$3.7 billion worth of convertible bonds of the high-street company.
Alibaba will exchange the bonds for Intime shares in three years so that it will eventually hold a 26-percent stake in the company.
According to the agreement, the pair will form a joint venture to develop shopping malls, department stores and supermarkets related to online-to-offline (O2O) business in China.
Zhang Yong, COO of Alibaba Group, said future business will involve integration and merging of the high-street economy and e-commerce, a process which will be assisted by big data and cloud computing technology.
As of the end of last year, Intime ran 28 department stores and eight shopping malls in China.
"Customers are changing their shopping habits with the development of Internet technology. Intime should adapt to the changes and enter cyberspace to cater to customers' shopping demands," said Shen Guojun, board chairman of Intime.