Student startups, entrepreneurial culture and all that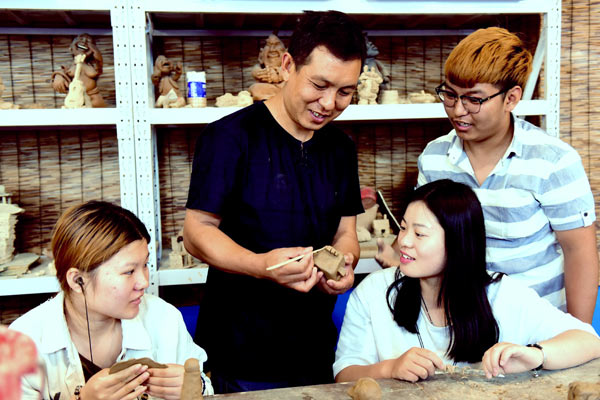 A teacher instructs students in ceramic works at a business school in Shijiazhuang, Hebei province. [Photo by Jia Minjie/For China Daily]
Should one stay self-employed or secure a decent job? That's the question confronting many Chinese youngsters these days.
If one wants to be a successful entrepreneur early, a quick way may be to be self-employed during university study or just upon graduation.
In fact, for an increasing number of students, a burning issue is the ability to start their own business early, while still at college.
Instead of being among those who can't find a decent job, more and more talented graduates tend to weigh the option of being their own boss. Even undergraduates and graduates majoring in popular subjects such as international trade, finance and banking, are eyeing this option.
As the vice-chairman of the School of Finance in charge of student employment and administration, I'm a witness to this phenomenon.
I think students prefer to strike it out on their own as there will be more freedom-maybe, they also think more money can be created this way.
More importantly, there is a greater chance for the self-employed to make their career dreams come true, according to a recent survey on entrepreneurship and student startups by Beijing-headquartered Renmin University.
The university is attaching more importance to student entrepreneurship. Its School of Finance, in particular, has put business management and entrepreneurship training among its top priorities, to get students better prepared for their future startups.
Every year, contests in business planning and startup operations will be organized by the school to boost students' creativity and independent thinking, to further drive their innovation capability.
In a lot of cases and projects, students have demonstrated their innovative ideas as well as an intense desire to start up, which deserves respect and admiration.
In my view, young people's ambition can never be underestimated, since they hold the key to re-gaining the nation's market vitality and restoring confidence in consumption and entrepreneurship.
"If the young people are strong, the nation will never be weak"-so goes an old Chinese saying. So true.
From a larger perspective, 155,000 students, or half of the 310,000 surveyed, have a strong or certain intent to start their own business upon graduation. Only 10 percent said they have never come across the idea.
Among 77,000 startup owners who took part in the survey, the most popular sector for young entrepreneurs is catering and hospitality, followed by agriculture, forestry, fisheries and animal husbandry. Information technology, logistics, education and culture are not far behind.
But it is always easier planning or thinking about something than doing it. Students may face some obstacles while doing business, especially at an early stage.
First, corporate tax could prove a heavy burden for startups, let alone newly founded small businesses. Second, administration fees and supervision cost are no less burdensome. Third, the lack of expertise and knowledge could make running a business more difficult.
So, in response, the State Council has announced a slew of encouraging measures. The preferential policies range from business registration and taxation to project financing.
Those setting up a company with a registered capital of less than 500,000 yuan ($72,800) can organize the capital in installments. Businesses related to consultancy services, information industry and technology services are exempted from corporate income tax for the first two years.
Newly founded firms by undergraduates in transportation, telecommunication, public utility, international trade, logistics, tourism, catering and education can enjoy tax exemption for at least one year.
When it comes to financing, major commercial banks are required to offer easy small loans of up to 20,000 yuan for student startups.
The Renmin survey showed that other major hurdles standing in the way of current and future entrepreneurs include the lack of incubators, red tape and inadequate access to supportive policies.
Such obstacles require both educational institutions and government to act. About 30 percent of undergraduates underlined the flexibility to switch majors, and a fifth of them highlighted the need for access to laboratories and equipment. And 14 percent highly valued the transfer of their institution's research and technological achievements to the marketplace.
Although 90 percent of undergraduates reckoned entrepreneurship education offered by universities is helpful, the Renmin survey revealed that at the moment China lacks mature, independent and systematic education programs in the subject, due to the constraints of the traditional education system.
It shows most institutions have unclear goals in innovation and entrepreneurship education, and lack a systematic and practical approach. To set up a clear goal in education requires both bottom-up and top-down approaches at national and regional levels, and from students themselves.
The lack of qualified teachers is another obstacle. The survey report argues that Chinese educational institutions are facing a huge void in human resources. Many teachers can offer support from only a theoretical level, without any real-life experience.
I think China is still at a nascent stage in entrepreneurship education compared to more advanced countries. To support such education, it will need sufficient funding, facilities, startup incubators and supportive policies.
So, students passionate about setting up startups should realize it will be sometime before the larger ecosystem evolves and matures to yield quick success. Until then, they need to struggle a bit harder for success.
Such students would do well to take full advantage of various policy supports and educational arrangements. They must do the following: stay self-motivated and self-driven; think out of the box; be creative and different; be open to advice and coaching; and, last but not least, find the right business partners to complement and support each other.
The author is an associate professor with the School of Finance, the Renmin University of China
Contact the writer at hwb@ruc.edu.cn