Entrepreneurship fair attracts the best in business
Owners, developers and enthusiasts descend on Sichuan capital to stake out industry's future
Deals worth more than 24.02 billion yuan ($3.48 billion) were signed at the 2017 Chengdu Global Innovation and Entrepreneurship Fair earlier this month, about 8 billion yuan more than at last year's session.
The growth reflected a boom in innovation and entrepreneurship in the host country, critics said.
"The innovation and entrepreneurship campaign has slipped into the hot, anxious summer season from the initial stage that was likened to early spring when it was proposed," said Pan Hao, founder of Chaihuo Maker Space, reportedly the first of its kind in Shenzhen, Guangdong province. The space gathers budding entrepreneurs and provides opportunities for them to share ideas and information.
"After the summer is the harvest season," Pan said.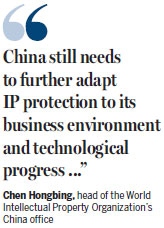 Noted economist Gu Shengzu said the tide of innovation and entrepreneurship has become a key driving force in China's economic transformation.
"It provides fertile ground for a large number of small businesses and at the same time spurs large corporations on to explore more abroad while retaining a focus on local needs," Gu said.
Wang Yasong, an official with the State Information Center, said China is facing fundamental changes in its economic structure, growth pace and development mode, with technology, skills and creation emerging as budding drivers.
"The purpose of hosting the annual fair is to foster and share resources in innovation and seek cooperation and mutual development," said Fan Ruiping, the Chengdu chief of the Communist Party of China.
Experts in attendance included four Nobel Prize laureates, 20 noted academicians from China and abroad, and 53 leaders from 53 renowned universities worldwide.
The three-day event attracted more than 600 high-tech companies from around the world to showcase their latest technological solutions and business modes.
Among them were exhibits from some 100 Silicon Valley businesses, covering an array of sectors such as virtual reality, augmented reality, autonomous machines and artificial intelligence.
They included a robot that can perform tasks automatically, walls made up of units that can be assembled like Lego toys and wearable devices that can trace users' health information within seconds and send data to professionals via cloud-computing technologies for assessment.
Humanistic intelligence will be a major trend in the industry, which may shape lifestyles of the future, said Steve Mann, chief scientist at Meta, a high-tech company in the United States who has been dubbed the "father of wearable computing".
This year's fair also drew more than 10,000 investors and startup founders to seek business and financing opportunities.
China joined the ranks of the top 25 economies worldwide on the Global Innovation Index, according to the GII 2016 ranking released by the World Intellectual Property Organization.
"IP protection provides a basic system for innovation," said Chen Hongbing, head of WIPO's China office. "The current IP system in China is at the forefront of the world."
"In the future, China still needs to further adapt IP protection to its business environment and technological progress, ensure the implementation of IP laws and regulations, and promote IP's industrialization."
China Daily and Xinhua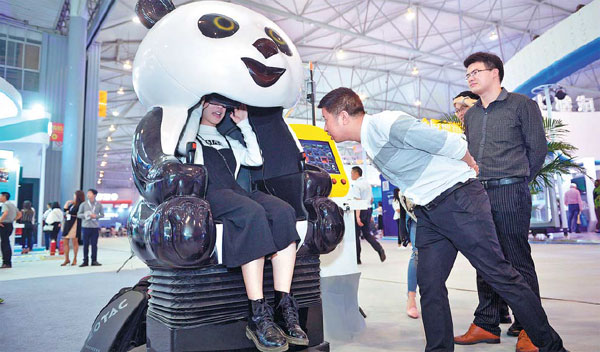 A visitor experiences a panda-shaped gaming machine integrated with virtual reality technology at the 2017 Chengdu Global Innovation and Entrepreneurship Fair. Hao Fei / For China Daily
(China Daily 05/25/2017 page17)
Today's Top News
Editor's picks
Most Viewed