Changan gets financing for NEV venture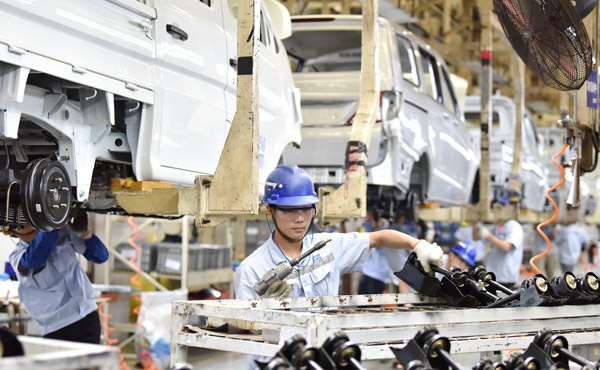 Workers assemble vehicles at a manufacturing plant of Chongqing Changan Automobile Co in Dingzhou, Hebei province. [Photo/Xinhua]
Chongqing Changan Automobile Co has inked strategic financing agreements with Ping An Bank Co and China Minsheng Banking Corp for its new energy car venture that would see investment of up to 100 billion yuan ($15.2 billion) by 2025.
The Chongqing-based automaker said in a statement on Thursday that it would set up an investment platform with the two banks for the purpose.
Changan had earlier come out with a plan called Shangri-La under which it planned to launch 21 electric car models and 12 plug-in hybrids by 2025 and stop sales of conventional fuel-powered cars from this year.
The investment will cover a range of things from car research and development, making batteries and building charging facilities, said Changan President Zhu Huarong.
Besides new energy cars, the platform will also focus on investments in the development of smart cars, automobile financing and ride sharing among other automobile businesses, it said.
"The move shows the company's long-term commitment to new energy cars as the whole car sector is preparing for the transformation to electrification," said John Zeng, managing director of LMC Automotive Shanghai.
Already a player in the sector, Changan sold some 35,000 new energy cars during the first nine months of the year, a 150 percent surge year-on-year, and expects its 2017 sales to reach 50,000 units.
Changan's massive investment plan comes after China promulgated a policy in late September that urges carmakers in the country to produce a certain number of new energy cars starting 2019.
China is already the world's largest new energy car market. It sold 490,000 such cars from January to October, a 45 percent rise year-on-year, according to the China Association of Automobile Manufacturers.
The Chinese government expects sales to hit 2 million units in 2020 and to account for 20 percent of the estimated 35 million cars that will be sold in 2025.
Such prospects have attracted many international carmakers to increase their number of electric cars in China.
Daimler AG is planning to localize an electric sports utility vehicle under its Mercedes-Benz brand in 2019. It is already producing electric vehicles with Chinese electric carmaker BYD Co.
"Electric mobility will be one of the biggest game-changers in the decades to come, and China clearly intends to lead the way," said Hubertus Troska, a board member at Daimler AG, responsible for China operations.
Volkswagen AG has set out a plan to sell 400,000 new energy vehicles to Chinese customers in 2020 and expects the figure to rise to 1.5 million in 2025.
It has partnered with JAC Motors to produce electric cars for the Chinese market, with the first model set to roll out in 2018.
Ford Motor Co and the Renault-Nissan Alliance are following suit, each building partnerships dedicated to producing electric cars in China.