Chery seeks buyer for Qoros equity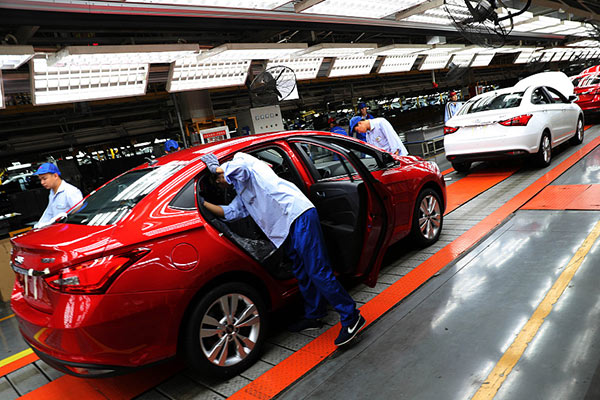 Workers check cars at a Chery production line in Wuhu, Anhui province.[Photo/VCG]
Twenty-five percent joint venture stake up for grabs, with Baoneng tipped for the winning bid.
Chinese carmaker Chery is proposing once again to sell half its equity in Qoros, its floundering joint venture with Quantum Fund, with conglomerate Baoneng identified as one of the likely candidates.
Chery is selling a 25 percent stake in Qoros with a starting price of 1.63 billion yuan ($247 million), according to a notice at the Changjiang Equity Exchange.
The offer is valid until Dec 14 and Chery demands that the buyer be a Chinese company registered on the mainland.
The move came within four months of the carmaker attempting, and ultimately failing, to find a buyer in the same way.
Qoros, established in 2007, was Chery's bid to go up in the Chinese car market, similarly to Wey's function for Great Wall Motor and Lynk& Co for Geely, both of which are expected to do a decent job of raising their parent companies' profiles.
Qoros' contribution, however, has so far been unsatisfactory. The joint venture sold 12,545 cars in the first 10 months of this year, a 31.8 percent fall year-on-year.
In the same period, China's passenger car sales grew to 22.92 million vehicles, the highest in the world.
According to Changjiang Equity Exchange, Qoros lost 1.33 billion yuan in 2016, which pushed the floundering carmaker's total debt to 9.63 billion yuan.
That means Chery's investment in the joint venture had resulted in a loss of 4.62 billion yuan, aggravating its own financial status.
The Economic Observer reported that Chery's debt totaled 59.9 billion yuan by the end of the first quarter of this year, almost doubling its 2013 level.
Its debt to asset ratio reached 74.82 percent, higher than the industry average.
Chery's repeated offer to sell the equity stake suggests the possible deal with its partner Quantum Fund mentioned back in August ended without fruition.
In a statement on Aug 30, the company said that a new China-based investor inked an agreement in the second quarter to invest about 6.5 billion yuan in Qoros for a controlling interest, subject to conditions, including regulatory approvals and processes.
It added that "The new investor has advanced funds to Qoros in a total amount of 1 billion yuan and, together with its affiliates, has also deposited substantial funds into certain designated accounts in connection with the investment."
Neither Chery nor Qoros has since revealed any details about the investor.
Chery's CEO Chen Anning told China Daily in late August that the plan to introduce strategic investors will not change.
Baoneng Group has been rumored to be one of the most likely candidates.
A property and financial services conglomerate controlled by Chinese billionaire Yao Zhenhua, Baoneng became a household name after a failed bid to buy a major stake in China's largest estate developer, Vanke.
Baoneng was not available for comment. But a source close to Chery confirmed to Chinese news website Jiemian that Baoneng will acquire the equity that Chery wants to sell. The transfer is likely to start in late November, and Baoneng has become well prepared financially, with an initial fund of 3 billion yuan already in place, said the source.
Baoneng has shown great interest in carmaking. The conglomerate signed an agreement with local authorities in Kunming, Yunan province, on Nov 21, where it plans to build a plant for new energy cars and components, according to local newspaper Kunming Daily.
A month earlier, it signed a 14 billion yuan investment agreement with a district government in Hangzhou, Zhejiang province, to launch a new energy vehicle development and production project.
Baoneng has already registered an automotive company under its name.
Its business includes specializing in the development, manufacturing and sales of engines, chassis, buses, passenger cars and new energy cars, according to the State Administration for Industry and Commerce. Its acquisition of Qoros' equity will at least help it to obtain a carmaking license, analysts said.