Smart manufacturing is helping Chery Jaguar Land Rover Automotive to build on its strengths to compete in China's fierce premium car market by enhancing its production efficiency, said the company's executives.
The Sino-British joint venture is one of the first car manufacturers in China to apply the industrial internet of things from the very first day of building its plant in Changshu, Jiangsu province, in November 2012.
"We have integrated IT solutions covering all production processes, such as quality control and logistics, which help to guarantee our products' quality, improve production efficiency, and realize flexible production," said Murray Dietsch, president of Chery Jaguar Land Rover.
The plant, with an investment of 10.9 billion yuan ($1.57 billion) and an annual production capacity of 130,000 cars, is Jaguar Land Rover's first manufacturing facility outside the United Kingdom.
Since starting production in October 2014, the automaker has rolled out three all new nameplates under the Jaguar and Land Rover brands - the Range Rover Evoque, the Land Rover Discovery Sport and the Jaguar XFL - a pace unrivaled in the car industry.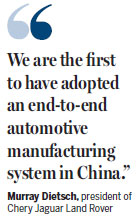 "We have three models from two brands, which helps us to attract more customers but also means that we have to deal with more varied and complex customer demands than other brands in the market," said Dietsch.
The joint venture has found a solution in its build-to-order approach, which prevents overstock and precisely meets buyers' personalized requirements.
Orders travel through an end-to-end manufacturing execution system, which covers all processes from production and quality control, to logistics and tracking systems.
"We are the first to have adopted an end-to-end automotive manufacturing system in China," said Dietsch.
"Because for us, efficiency matters. To ensure efficiency we need to match our production to our orders, distribute our cars to dealers effectively and ensure our cars are traceable if there are any problems."
Chen Xuefeng, deputy president of Chery Jaguar Land Rover, said the plant's manufacturing simulation system also cuts production time and prevents possible errors.
The system enables the carmaker to see whether a designed model is ready for production, to calculate and validate the capacity of a production line even before it is established and to see how a car body will eventually look before it goes into the welding and paint workshops.
These systems help the automaker's workshops, into which it has pumped significant investment, to work more efficiently.
Its press workshop is 90 percent automatic. It is equipped with the world's most advanced servo press line and the fastest mechanical press line in China, which means one body panel can be completed every 4 seconds.
A total of 307 robots from Swedish-Swiss company ABB Group work in the company's car body workshops.
It takes around 120 seconds to complete the process of welding a car body and three different models can be processed simultaneously.
The paint workshop has an advanced system, which makes the working environment cleaner.
The trim and final shop can also process three different models at the same time.
"The sophisticated dynamic strut movement and location system technology, which was first created and used in China, have far better performance than similar facilities," said Chen. The automaker has also built China's first automatic aluminum body workshop, establishing itself as the leader in aluminum body production.
The workshop has 335 robots, making it fully automatic. The car bodies comprise 75 percent aluminum alloy, the highest percentage in China. Using aluminum enables faster acceleration, more accurate control, shorter braking distances and better fuel efficiency.
"We introduced the industry-leading lightweight technology into China, which is the most intelligent and green technology, making a great contribution to the development of China's automobile industry's lightweight technology," said Chen.
A firm foundation
Building on its strengths, the joint venture is fully confident in the future. "We will launch at least one new model every year until 2020 and will continue to provide Chinese consumers with superior products and services beyond their expectations," said Chen.
The automaker has announced a plan to increase its plant's capacity to better meet the needs of Chinese consumers and deliver on its long-term commitment to the local market.
The project, which involves building a second all-new trim and final shop and expanding the existing body shop, will increase the manufacturer's annual capacity by 70,000 vehicles, about 50 percent of its current capacity.
The implementation of the project will create 2,000 new jobs, which will increase the company's total employees to 6,000.
The automaker said the IT systems will be a project highlight, which will effectively serve its operational and management needs, providing world-class support for the company's strategic goals.
"Through our Phase II Capacity Expansion Project, Chery Jaguar Land Rover brings new energy-saving materials and fuel efficient technology to China," Chen said. "This will not only drive our technological development and enhance our intelligent manufacturing, but also contribute to the upgrading of China's auto industry."
lifusheng@chinadaily.com.cn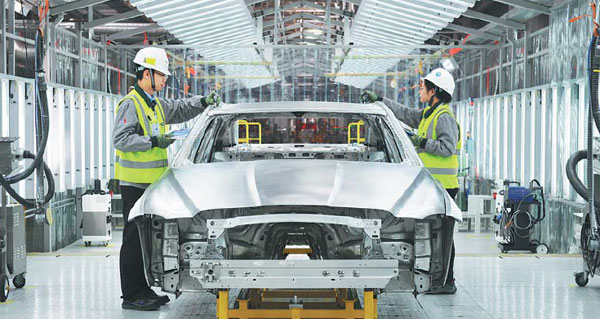 Workers examine a car at the welding workshop of Chery Jaguar Land Rover Automotive's plant in Changshu, Jiangsu province. Photos Provided To China Daily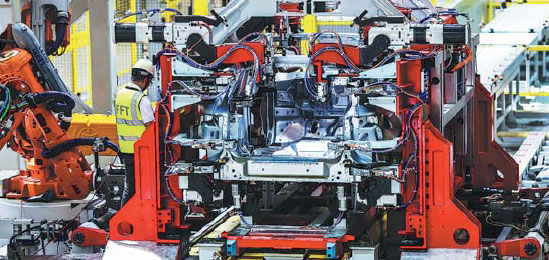 A worker checks the riveting point at a production line of Chery Jaguar Land Rover.
(China Daily 01/09/2017 page19)