Subsidies to encourage better battery tech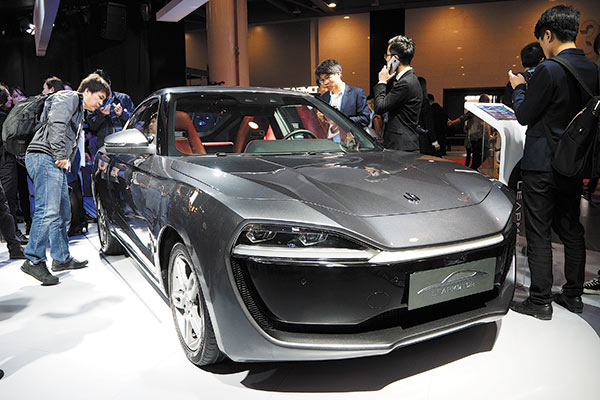 Leap Motor, founded in December 2015, unveils its sub-compact full electric coupe on Nov 10 in Hangzhou, Zhejiang province.[Photo by Hao Yan/China Daily]

Insiders expect revamped strategy to boost competition, avoid more fraud
China is planning to drive upgrades in power battery technology by categorizing subsidy-eligible new energy models according to more specific details, including driving range, battery density and energy consumption.
The new energy subsidy program has been through panel discussions at four national ministries and now features a reduced amount of subsidies. Local media cited sources familiar with the matter, saying that a renewed plan is coming very soon.
This might involve segmenting eligibility levels according to 50-kilometer driving range tiers. The new plan might give more subsidies to electric cars that incur higher costs given their larger battery packs.
According to the sources, fully electric cars that can drive farther than 350 km will be eligible for a 50,000 yuan ($7,572) subsidy in 2018, 13.6 percent more than that offered this year; those with a driving range between 300 km and 350 km will receive a 45,000 yuan subsidy, 1,000 yuan more than this year.
On the other hand, the central government will give less to vehicles with a driving range lower than 300 km, while those below 150 km will not receive a penny.
Shu Chang, a Shanghai-based partner of Roland Berger Strategy Consultants, told China Daily that the new plan clearly demonstrates a determination to push forward new energy vehicle development.
He said: "The refreshed subsidy plan targets vehicle driving ranges, and aims to promote upgrades in the new energy vehicle industry."
China currently offers subsidies in three tiers to full-electric passenger cars: 20,000 yuan to those driving further than 100 km but less than 150 km; 36,000 yuan to those with a range between 150 km and 250 km; and 44,000 yuan to those capable of driving farther than 250 km.
Those with subsidy packages at above 100,000 yuan, with bigger battery packs, were not so popular in recent years, as the subsidies offered to buyers were similar to those for cheaper models with smaller batteries.
As a result, electric cars are usually only used for short-range driving, and customers have less confidence in them when driving longer distances.
The other focus of the new plan is to encourage the development of higher-density power batteries by leveling up the battery density thresholds, according to the sources cited by local media. Currently, logistics vehicles need to have a 90 watt-hours per kilogram battery installed, but the requirement is set to increase to 115 Wh/kg. That figure will rise to from 120 Wh/kg to 140 Wh/kg for buses.
Shu said he sees the required higher battery density as an approach to avoid falling into the subsidy fraud trap.
In October, another batch of new energy vehicle manufacturers were penalized for fraudulently claiming subsidies. As of February, the country had retrieved subsidies and imposed penalties of 2.3 billion yuan in total.
"This upcoming action aims to switch the driving force away from policies and regulations, and automakers will take their momentum from the market in the future," he said.
Liu Bin, chief expert at the China Automotive Technology and Research Center, shared his forecasts for future policy changes at the Global Future Mobility Forum earlier this month.
He said he expects that the government will set multiple targets for the development of new energy vehicles with quick dynamic adjustments.
"The government might accelerate competition to rule out weak carmakers, rather than providing protections as it did in the earlier stages," Liu said.
"New energy vehicle development has stepped into a stage of industry-wide competition, which requires automakers' rivalry in the market," Liu added. The three-day Global Future Mobility Forum, held at the Hangzhou International Expo Center in the capital of Zhejiang province, was supported by automobile-related government bodies and local governments. It took place alongside a new energy auto show.
Chen Qingtai, an automobile expert with the Development Research Center of the State Council, called on the government to prepare for ramping up market expansion in the near future. "The government has to design a profound top-level policy, to embrace the immense power of technological progress and industrial upgrades."
China overtook the United States last year as the world's largest new energy vehicle market, with total annual sales of 507,000 vehicles.
The country achieved a sales volume of 490,000 vehicles in the first 10 months of this year, up 45.4 percent from the same period of last year. The industry forecasts China will have 80 million new energy vehicles running on its roads by 2030.