BMW Brilliance dazzles with new strategic battery move in China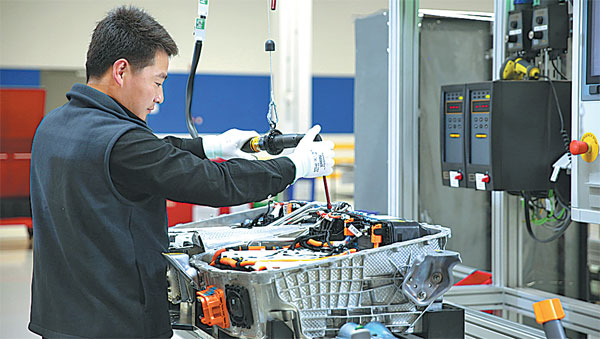 A worker assembles a battery pack for the all-new BMW 530 Le iPerformance at its Tiexi Powertrain Plant in Shenyang, Liaoning province. Photos Provided to China Daily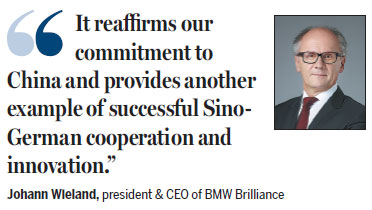 The idiom Hou Ji Bo Fa, meaning being well prepared leads to achievements, is BMW Brilliance Automotive's way of describing its latest strategic move in China: to develop a new energy ecosystem as the first premium carmaker locally producing battery packs.
The Sino-German joint venture formally started assembling battery power packs in the High Voltage Battery Center located at its Tiexi Powertrain Plant in Shenyang, northeastern Liaoning province, on Tuesday.
At the opening ceremony, BMW Brilliance announced it had become the first premium automotive joint venture in China to establish a high voltage battery plant.
"The High Voltage Battery Center further strengthens our position as an e-mobility leader," said BMW Brilliance President & CEO Johann Wieland.
"It reaffirms our commitment to China and provides another example of successful Sino-German cooperation and innovation."
The first locally developed and produced BMW Brilliance high-voltage battery will be used in the all-new BMW 530 Le iPerformance.
Starting with the mid to large-size plug-in hybrid electric sedan, BMW Brilliance is preparing for more products for the local market in the near future, since it recognizes China as the most important market as it heads towards an e-mobility future.
The center brings together battery production, research and development, quality control, laboratory, procurement and supply chain management functions.
A robust and flexible production process will enable BMW Brilliance to achieve faster product launches while delivering a battery product that combines optimal safety, durability and performance.
"The High Voltage Battery Center is built very close to other plants in Shenyang, so we are able to deliver the components immediately to the electric car assembly line," said Wieland.
"Besides, we are trying to modify the supply chain all the time." The center is dedicated to developing high-voltage battery technologies for use in premium new energy vehicles that are tailored to the Chinese market. It will produce the top energy density battery packs to supply the new e-cars.
Having anticipated well in advance the industry dynamics and evolving consumer demands, BMW Brilliance has developed a clear strategy to lead the industry with concrete achievements. BMW Brilliance is building a completely new energy ecosystem covering the entire industry value chain from R&D capabilities, battery solutions and technology leadership, to brands and product, charging and infrastructure and e-mobility services.
The center in Shenyang is BMW Group's third battery plant worldwide, its first comprehensive center outside of Germany, encompassing battery R&D, production and testing in one location, according to Oliver Zipse, member of the board of management of BMW AG, responsible for production.
Zipse said: "By 2025, we expect our electrified BMW and Mini models to account for between 15 and 25 percent of global sales. This adds up to several hundreds of thousands of vehicles per year. It therefore makes sense for us to integrate electro-mobility into the existing production system."
The local high-voltage battery production is fully integrated into BMW Group's new energy vehicle strategies - including plug-in hybrid electrical vehicles and fully electric vehicles - because BMW Brilliance uses BMW know-how and the two work together closely works closely together, according to the venture.
Cutting-edge technology
"BMW Brilliance is entering a new stage of localization, featuring intelligent manufacturing, innovation and sustainable development," Wieland said.
"We are definitely leading the industry. BMW Brilliance is fully driven by digitalization in improving processes, quality and products."
The innovative and bespoke in-house production process enables the company to differentiate itself from rival brands and ensures customers driving its electric models receive the full BMW driving experience.
"We are investing in producing not only battery packs, but also in a better future environment for humanity," Wieland added.
The center applies innovative production processes to carry out double-module battery production, and state-of-the-art robotics ensure maximum accuracy in the highly automated process of forming double modules from lithium-ion cells.
The company said the application of advanced and industry 4.0 technologies means the center sets new standards for high-voltage battery production in China.
An integrated process management system for quality management leverages big data to trace battery cells and processes through production, including information as detailed as tightening torque.
Automatic laser welding gives high accuracy and stable weld quality, adding strength and reliability to the battery frame and electrode connections, thereby enhancing battery safety and function.
Optical checking is enabled by 3-D cameras that detect abnormal trends in welding and foil applications, verify and optimize welding quality, and flag potential quality defects.
The entire production process takes place in an environment of strictly controlled cleanliness, humidity and temperature. Plasma cleaning technologies are used for surface cleaning, to achieve increased surface tension force for better application of foil and glue.
In the final stage of module assembly, the double-module is completed in an isolated workshop with a controlled constant humidity of under 31 percent to ensure gluing quality.
Another feature of the automated production line is the robotic arms equipped with suction cups that capture and deliver cells, preventing any potential risks involved in manual handling.
The battery packs will meet 1,502 technical criteria, attaining a perfect balance between e-range, performance and safety. The products will also pass repeated firing, watering, collision and leakage tests.
In China's most extreme testing environments at - 40 degrees Celsius, the battery pack can still provide stable power output as a testimony to its supreme reliability.
haoyan@chinadaily.com.cn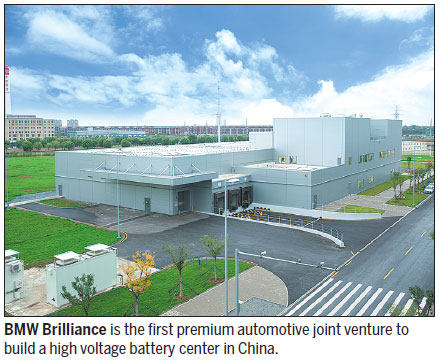 (China Daily 10/30/2017 page19)
Today's Top News
Editor's picks
Most Viewed