Automaker sees production, sales surge for NEVs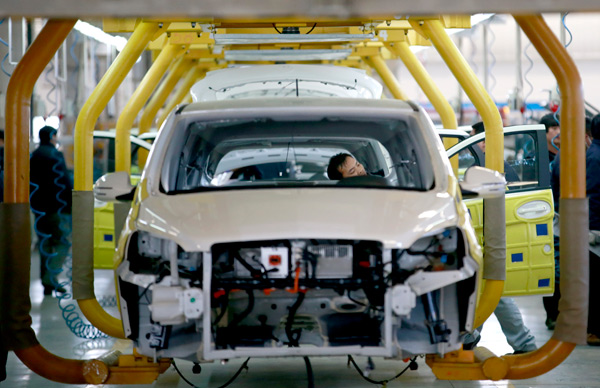 An employee works on an assembly line producing electric cars at a factory of Beijing Electric Vehicle Co. [Photo/Agencies]
Beijing Electric Vehicle Co says that it expects to see a fourfold rise in new energy vehicle sales in the next three years, thanks to government support for the sector.
Zheng Gang, general manager of the company-the new-energy vehicle arm of State-owned automaker Beijing Automotive Industry Corp (BAIC), said its sales of NEVs would reach 500,000 by 2020.
"We have topped the domestic NEV market in terms of sales volume for four consecutive years," Zheng said at a Monday news conference in Beijing.
"Since 2014, our company has sold 124,000 NEVs, with the total mileage reaching 1.21 billion kilometers, roughly 3,000 times the circumference of the Earth, thus cutting carbon emission by 190,000 metric tons, equivalent to planting 740,000 trees," Zheng said.
"The number of NEVs sold in 2016 amounted to 52,000, an almost 74-fold increase compared to 678 in 2012, taking up 21 percent of domestic market share and snatching the fourth place globally," he added.
The company owes the significant jump in sales to its heavy investment in research and development.
It has invested a total of 3.62 billion yuan ($550 million) in R&D from 2013 to 2017, accounting for 20.35 percent of its total business revenue.
Currently, 45.1 percent of its employees are engaged in R&D, and those employees now own 2,219 patents and 1,053 patents for invention.
BJEV now has 10 different types of NEVs which can run between 200 and 400 kilometers per charge.
Its flagship NEV EU400 runs 460 kilometers per charge. The electricity cost for 100 kilometers is only eight yuan, one-sixth of that needed for fossil-fuel powered vehicles. Owners of the EU400 can save as much as 6,000 yuan each year if their mileage reaches 20,000 kilometers.
According to Xin Guobin, vice-minister of industry and information technology, the government is reviewing the timetable for phasing out the production and sale of fossil-fueled cars.
On Aug 28, MIIT unveiled a new regulation requiring most automakers to sell a minimum percentage of NEVs each year from 2019.
The new policy requires car makers that produce or import more than 30,000 conventional vehicles annually to sell 10 percent of NEVs in 2019 and 12 percent in 2020. Companies failing to achieve such a quota will either have to buy credits from other automakers or face a fine.
"This regulation is great news to us. It means the government has shifted its support to NEV enterprises from offering subsidies to market regulation", said Zhang Yong, deputy general manager of BJEV.
"China is the one of the biggest markets of NEVs in the world. What we do sets an example in the world (and) will have a significant impact for automakers in other countries," Zhang said.
Han Xiaoping, chief information officer of China Energy Net Consulting, said that BJEV started early in NEV research and has accumulated sufficient experience.
"Although China lags behind Western countries in the fossil (fuel) car era, with more policy support and technological breakthrough, we can prevail in the electric car era", Han said.
China rolled out a total of 350,000 NEVs in 2016. The country has manufactured and sold 346,000 and 320,000 NEVs, respectively, in the first eight months of 2017, a year-on-year rise of 33.5 percent and 30.2 percent, according to data from China Association of Automotive Manufacturers.
The same data predict that the total number of NEVs sold this year will reach more than 700,000 by the year end.