NEVS unveils InMotion in Shanghai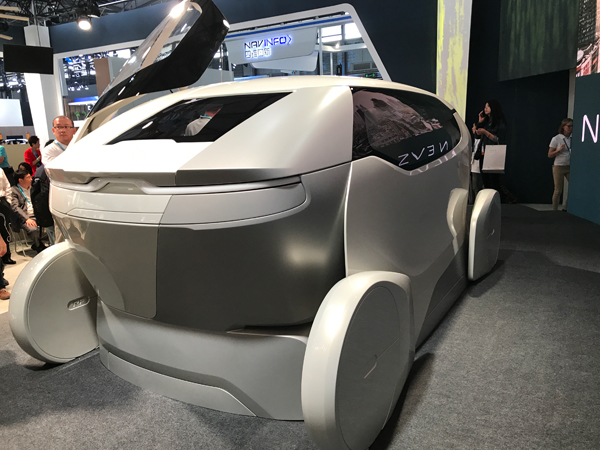 A new transportation concept, called the InMotion, was unveiled by the National Electric Vehicle Sweden (NEVS) during the two-day Asian Consumer Electronics Show (CES Asia) in Shanghai.[Photo provided to chinadaily.com.cn]
A new transportation concept, called the InMotion, was unveiled by the National Electric Vehicle Sweden (NEVS) during the two-day Asian Consumer Electronics Show (CES Asia) in Shanghai.
The event, held from June 7, showcased the InMotion cabin as a vision of how people in the future could travel safe and efficiently through a big city, without having to own the car or a driver. Passengers could also use it through reservation, which helped to reduce traffic congestion and pollution.
Jiang Dalong, chairman of NEVS, and designer and maker of the concept, said the vehicle had four flexible seats inside the cabin, three different interior modes, and digital screens which allowed passengers to adjust the interior space.
"It is a new future urban mobility solution which helps to create a greener, more sustainable society," he said.
NEVS further exhibited two electric car models at the event, which would be ready for sale in the summer of 2018. The vehicles would be built at the NEVS´ plants in Tianjin and Longyan of Fujian province respectively.
NEVS, which acquired Saab Automobile AB in 2012, has conducted cooperations with the Tianjin Binhai High-tech Zone and launched transportation pilot projects in Tianjin, creating a green and sustainably developed travel ecosystems.
"There are many progressive cities in China, but, in my understanding, Tianjin must be the one with most clear vision on green sustainability in the future," Stefan Tilk, vice-chairman and executive director of NEVS, said.
He added China was also the biggest market for EV cars, according to the Forbes survey stating the sales of EV cars in the first half of 2016, which increased 162 percent compared with the same period of 2015.