Lexus optimistic on continued China expansion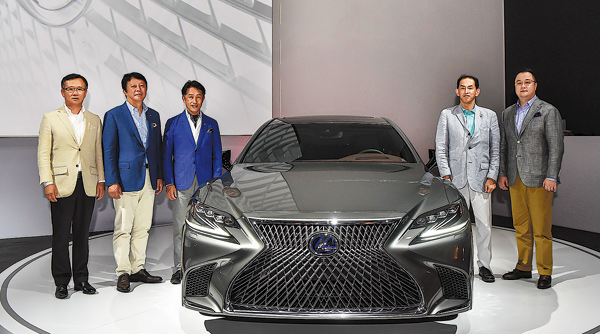 Senior executives of Lexus attend the company's brand campaign in Shanghai. PROVIDED TO CHINA DAILY
Lexus, the luxury unit of Toyota Motor, is confident that it will reap steady sales growth in China this year, encouraged by its strong performance in the first seven months of 2017.
Tetsuya Ezumi, executive vice-president of Lexus China, said the automaker sold 71,564 cars in the country from January to July, surging 27 percent on a year earlier.
"Our monthly sales in China have exceeded 10,000 units and we are maintaining sound growth momentum. So we forecast our sales this year will surpass last year," said Ezumi.
Lexus sold 109,000 cars last year in China, its second-biggest single market in the world after the United States.
Ezumi attributed the robust growth largely to Lexus' upgraded lineups. The brand now has 20 models available in China.
In the first seven months of the year, sales of the Lexus ES mid-sized sedan reached 31,947 vehicles in China, beating the US as the model's largest single market. Meanwhile, Lexus sold 17,023 of its RX mid-sized SUV and 14,701 of its NX compact SUV. Ezumi said Lexus will launch a NX facelift and a CT facelift compact car during the Chengdu motor show later this month.
The all-new LS limousine and LC sports car will also come to showrooms in China at the end of this year, he said, adding he expects the two models to be "the blockbusters" in their respective segments.
Ezumi said Lexus' strategic shift from "a conventional luxury brand to an emotional one with amazing lifestyle experiences" will also help it to boost sales in China where luxury car buyers are much younger than in other major markets in the world.
Lexus car owners in China are on average 35 years old, at least 25 years younger than in the US and Japan, according to Ezumi.
He said the brand shift is expected to woo more young customers who have increasingly diversified demands.
"In the past, owning a luxury car could help customers manifest their value and status. However, in the future they will focus more on what lifestyle they could experience after purchasing a luxury car," said Ezumi.
Chen Chen, Lexus' marketing and communication director in China, said the company will launch more brand experience campaigns in the fields of art, fashion and sports to facilitate its brand shift strategy. Ezumi predicted that the entire luxury car market in China would rise to 3 million vehicles sold annually soon. The number stood at 2 million last year.
The market is now mainly dominated by three German marques-Mercedes-Benz, BMW and Audi.
Analysts said that, considering Lexus is not producing cars in China, its current performance is fairly decent.
Most luxury carmakers have started production in China, such as the three main German brands, Cadillac and Jaguar Land Rover, as well as Lexus' smaller Japanese siblings Infiniti and Acura.
Ezumi said local production is an important topic that Lexus is continuing to examine according to changes in the market and other factors in China.
"However, local production is not all of localization. It should also include localization of branding, marketing and other aspects. We attach more importance to brand localization and look forward to forming an emotional bond with Chinese customers," he said.