Audi dealers oppose SAIC production, sales plan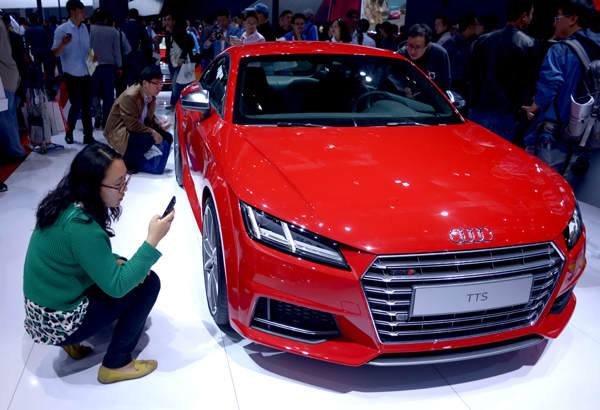 A woman takes a photo of an Audi TTS at an auto show in Shanghai. AFP
Audi AG's dealers in China on Thursday expressed a new wave of opposition to the German carmaker's intention to produce and sell cars with SAIC Motor Corp Ltd, worrying that a new dealer network would worsen their already heavy losses.
The dealers claimed they lost 28 billion yuan ($4.08 billion) from 2014 to 2016 as Audi's ambitious estimates failed to materialize.
That was according to the new Audi dealers association, which was set up on Thursday in Sanya, Hainan province.
The association said Audi estimated in 2012 that its China sales would hit 1 million units in 2020, with a sales network of 580 dealers, a projection that motivated dealers to expand their investments. Currently there are around 530 authorized dealers.
"Each store costs 70 million yuan to 80 million yuan and the investments have led to heavy losses," it said in an open letter, which said under the current arrangement they were due to suffer "great injury".
"We would like to join with Audi to realize the goal of selling 1 million cars by 2020 and after the goal is realized, we will not object to its intention of building new partnerships," it added.
Audi did not comment on the dealers' demands.
"We are looking forward to closely working together with the dealers association for the mutual benefit of the Audi brand and our network partners in China," Audi said in an email to China Daily.