BYD plans to set up two bus plants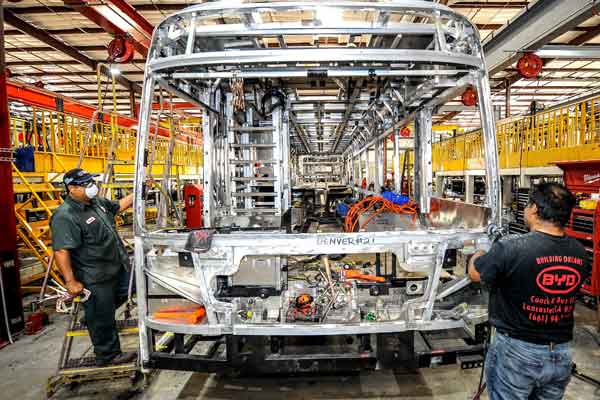 Two employees polish the frames of an electric bus at BYD's bus factory in Lancaster, California in the United States. [Photo/Xinhua]
Company's founder sees monorail as the firm's next area for major growth
BYD Co, China's largest electric vehicle maker, plans to set up two new factories in Latin America this year to produce electric buses, as it seeks to overcome obstacles in selling them to more cities at home.
The new factories will produce for the local markets and add to existing plants in the US, Hungary and Brazil. Expanding overseas has proved to be easier in some cases than expanding in China, said Senior Vice-President Stella Li. BYD expects its overseas electric bus business to turn profitable this year, she said.
"We have been trying really hard to get into Beijing and other cities that are heavily polluted and just couldn't do it for unknown reasons," Li said in an interview in Las Vegas, where she was attending the CES 2017 trade show. "Entering into those cities is way more difficult than getting into developed countries such as the US and Europe that are famous for intense competition and high industry standards."
BYD's billionaire founder Wang Chuanfu started BYD as a manufacturer of handset batteries and is pushing the company into the monorail business, identifying it as the company's next major growth, area after building the company into the biggest producer of electric vehicles in China. Monorails are a more affordable and feasible option for smaller cities than a subway system, and the company is in discussions several countries about exporting the light-transit systems, he said last month.
The monorail business will be the biggest driving force for BYD's growth this year and the company is expected to announce many orders for the light transit this year, Li said declining to be specific. Investors have yet to adequately understand the potential contribution of monorail to BYD's bottom-line, she said.
Bloomberg