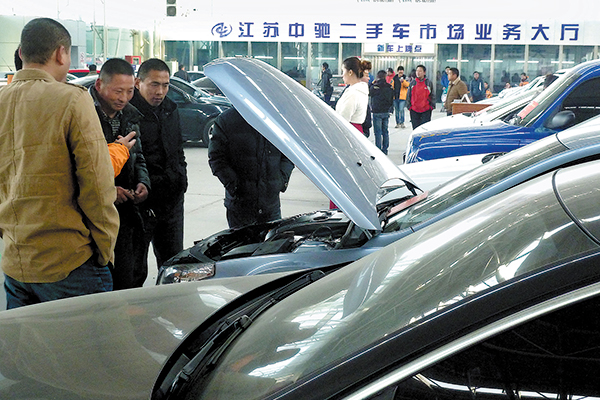 Visitors examine cars at an event for the trade of secondhand cars in Nanjing, Jiangsu province. New government policies and regulations are expected to spur sales of secondhand vehicles. [Photo/China Daily]
Sales of secondhand cars in China are expected to hit a new high this year after the State Council released a guideline on March 25 to stimulate the sector's development.
The eight-article document advises that cities outside the Beijing-Tianjin-Hebei, Yangtze River Delta and Pearl River Delta regions lift their ban on used cars being imported from other regions by June. The ban, which has been in place in about 300 cities, has been seen as a major obstacle to trading in used cars in the country.
The guideline also urges local governments and relevant organizations to enhance their efforts in such aspects as ensuring the registration of secondhand cars, making maintenance information available, applying sales tax and providing financial support.
"We anticipate strong growth in the number of secondhand cars traded this year, at least exceeding 10 million units," said Xiao Zhengsan, China Automobile Dealers Association's secretary-general.
Last year, there were 9.4 million transactions of secondhand cars. According to the organization's statistics, 806,300 used cars were sold in January across the country, a 6.47 percent growth year-on-year, with those that have been used for six years accounting for almost 47 percent.
Xiao said there will be a market influx of cars with around that much mileage because a high number of people who purchased cars around 2010, a year that saw a surge in car purchases in the country, are about to buy new cars this year, which is in line with China's car consumption patterns.
He said that a favorable tax policy on car purchases that expires by the end of this year is also behind the purchases of new cars.
According to a policy issued in September that those who purchase vehicles with an engine of 1.6 liters or smaller are entitled to pay half of the purchase tax.
Several other policies are expected to help spur transactions of secondhand vehicles.
Xiao said the national V emission standards would not apply to used cars, adding that the strict standards were causing panic among some dealers as they would take effect from April in 11 municipalities and provinces in eastern China.
Shen Danyang, a Ministry of Commerce spokesman, said on March 17 that the ministry is working on a draft about used cars as part of efforts to boost car sales in China.
He said the regulation will be promulgated soon now that suggestions had been solicited and experts would be organized to further improve it.
Shen's words came after Premier Li Keqiang said in his government work report delivered at the recently concluded two sessions that China would encourage the development of the secondhand car market.
Shen estimated that about 36 million used cars would be traded each year considering that China's new car sales stood at 24 million units last year.
That would make China the world's largest secondhand car market, he said.
Shen Rong, vice-secretary-general of the dealers association, said the sector of used cars will see changes in the way they are sold as China is home to a growing number of smartphone users.
He said that the mobile Internet is sure to bring about some change into people's lifestyles and the market, after the emergence of computer-based online platforms in 2010 in the country.
"Now we see 16 percent of used cars sold through online platforms … and I want to emphasize that the future of the used cars market relies to a great extent on technological progress.
"So dealers' future might be decided by how they integrate online and offline services."