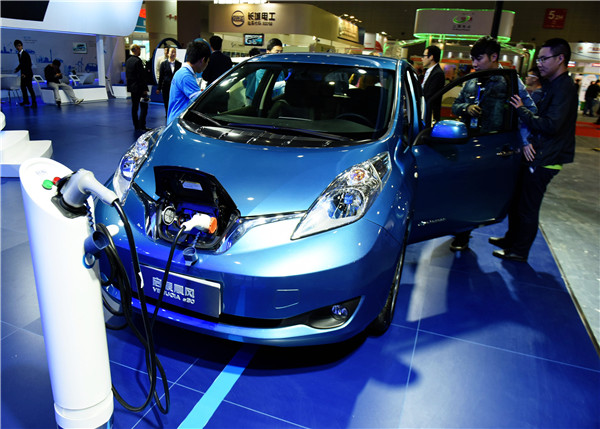 Visitors check out a new energy vehicle at an exhibition in Shanghai in November. The State Council recently released new guidance aimed at encouraging the development of the new energy vehicle industry. LONG WEI/CHINA DAILY
Government announces big investment in R&D institute
China announced on Thursday, 500 million yuan ($76.6 million) will be invested in a research and development institute for new energy vehicle batteries, with the government leading nine companies in search of breakthroughs in advanced traction battery technology.
Minister of Industry and Information Technology Miao Wei said at a news conference: "Advanced traction battery technology determines the performance, quality, safety, and more, of new energy vehicles. As far as we know, all the other new energy vehicle manufacturers, except BYD, are purchasing not making batteries."
The announcement was made a day after the State Council, China's cabinet, released new guidance on Wednesday designed to encourage the development of the new energy vehicle industry.
The sector is to receive incentives instead of the current subsidies, and the government is encouraging enterprises, universities and research institutions to cooperate in traction battery research and development, in expectation of "revolutionary breakthroughs" in battery performance.
Rechargeable traction batteries are used to power NEVs, especially pure electric vehicles that need high-capacity batteries.
The makers of traction batteries will receive incentives when their products meet the required performance standards and their sales volumes reach a certain level. More battery charging facilities will be built, but the constructor and operators' incentives will be decided by the amount of electricity consumed.
Zhang Junyi, a partner of Roland Berger Strategy Consultants, said: "The central government has shown its determination, as the policies are becoming more precise. It has considered operation and maintenance, and the new measures evade one-off deals. To receive the money, a company must have cars or facilities in operation for a while with accumulative data."
"The big players deserve the support, as they can secure the quality and safety with advanced research and development. They have the edge in technology and market advantage, especially the manufacturers of electric buses," said Jia Xinguang, a senior analyst at the China Automobile Dealers Association.
The State Council has pledged to establish a NEV safety monitoring system, compensation scheme and market exit mechanism. Other measures include increasing the share of new energy vehicles in the public transportation system and improving their quality.
NEVs have continued to gain popularity in China, as the market size exceeded 331,100 units last year, more than triple that of 2014, according to data from the China Association of Automobile Manufacturers.
Battery technology
Chen Ning, director of Deloitte China Automotive Consulting Practice, said ternary lithium was the mainstream technology, and many battery makers had expanded their production capacities to meet the volume criteria for government subsidies.
However, the Ministry of Industry and Information Technology halted subsidies for ternary lithium batteries earlier this month, and abolished the subsidy program in January for all ternary lithium battery powered buses.
Huang Shilin, chairman of Contemporary Amperex Technology Ltd, China's leading traction battery maker, told China Daily earlier that the battery industry in China has developed very fast thanks to the government subsidies and tax cuts.