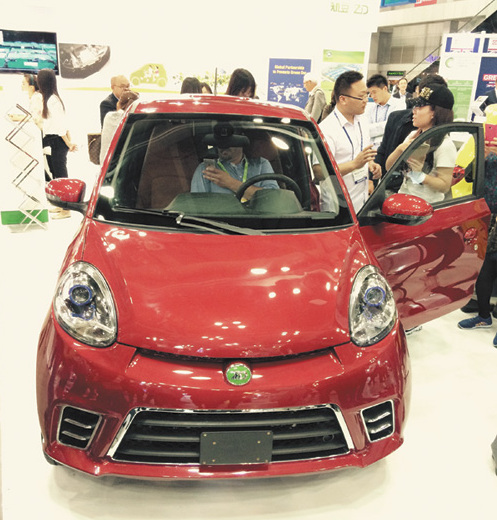 Xindayang's D2 made its debut at the 28th International Electric Vehicle Symposium and Exhibition in Seoul. [Photo/China Daily]
While it might not be a household name in China's auto market, domestic electric carmaker Xindayang has one lofty ambition: to be the nation's leader in the mini electric vehicle market.
"We are aiming to be the leader in what we call the 'city mini EV market,'" said Bao Wenguang, president of Xindayang Group and CEO of Xindayang Electric Vehicle Technology Co Ltd.
One key goal in the 14-year-old company's ambition includes domestically selling 100,000 units of its ZD D2 mini electric car next year.
The D2 is the company's second electric car model. Its debut-at the 28th International Electric Vehicle Symposium and Exhibition in Seoul, South Korea, in May-comes just one year after the company began selling its D1 model.
The D1 initially made its debut in 2012 purely as a rental car in Italy under the name H1. Xindayang sold 7,400 units of the D1 domestically last year, which accounted for nearly one-tenth of total new-energy vehicle sales in China.
For environmentally conscious consumers in China, the world's second-largest new energy vehicle market, Xindayang's two-seat ZD brand is an ideal second car for short-distance urban treks.
Founded in 2001, the company made its initial fortune from electric motors and bikes. In 2006, it entered the new energy vehicle industry. After it rolled out the ZD H1, it established a joint venture with Geely earlier this year to continue producing the ZD line of electric cars. The H1 then got its name change to D1.
According to d1ev.com, a website that specializes in new energy vehicle news, the company ranked among the top three domestically in the sales of pure electric vehicles. Bao said he is confident about the future of the D2 and predicted that the micro car market would reach 15 to 20 million units in sales in China in the coming years.
"The new-energy vehicles is urgently needed in China", Bao said, "and the country is taking environmental protection and the development of green energy seriously."