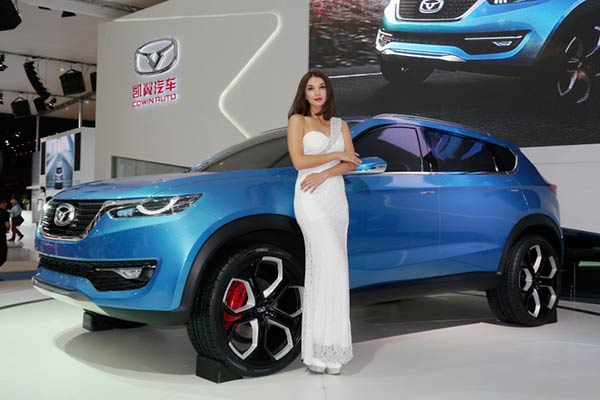 A model poses next to Cowin Auto's A class SUV concept i-cx, on Aug 28, 2014, the media day of the Chengdu Motor Show. [Photo provided to chinadaily.com.cn]
One of the newest players in China's auto industry has unveiled its concept SUV and mass produced A0 class cars. Chery-controlled brand Cowin, which means "join hands to win", plans to target smart cars and build an Internet sales channel.
"Our aim is to be an innovative carmaker that deploys Internet technologies, and we will strive to make the favorite smart car that offers all connectivity to our young customers," said Zheng Zhaorui, general manager, Cowin Auto.
He was speaking at the launch event in Chengdu city, Sichuan province, on Aug 28.
Cowin Auto was established in January, 2014, and is invested by Chery Holding Co. The carmaker's product line-up will include six models, including two SUVs of A and A0 class, an MPV, a Cross, and two cars of A and A0 class.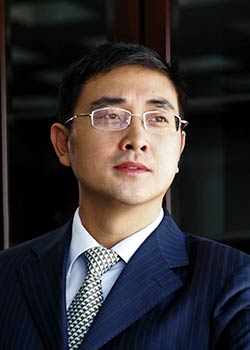 Zheng Zhaorui, general manager at Cowin Auto. [Photo provided to chinadaily.com.cn]
The A class SUV concept i-cx made its debut at the event and is on display at the ongoing Chengdu
Motor Show
. It will load three alternative powertrains – 1.6-liter TCI, 1.4-liter TGDI, and plug-in hybrid, with 6-speed manual transmission and 6-speed dual clutch transmission available. All-wheel drive is available on all the versions.
The concept SUV has been modeled on global standards and forward engineering process. The SUV was inspired by the logo that looks like an eagle spreading its wings, according to Lowie Vermeersch, Granstudio SRL CEO and creative director at Cowin Auto.
The eagle eye-shaped headlight and taillight illustrate the design idea with eye-catching LED. Inside the car, the big touch screen and air conditioning wind outlets show that people's experience has been taken into account.
I-cx' 2.8 meter long wheelbase offers drivers and passengers a superior space, with a length of 4,577 mm, width of 1,946 mm, and height of 1,709 mm.
The car will become a mobile device, instead of just a travel tool. With an eye on the future, Cowin will merge computing and Internet into the car, and provide a well-connected smart car to its customers. The company will explore a new approach, according to Zheng.
Cowin is building a research lab for connected smart car and Zheng said the company will move forward firmly towards smart connectivity.
"We are going to make the car as everybody expect to be. What we are doing is to deeply understand the demand," he said.
The carmaker, which believes all future customers will be online, has formed an Internet Department to promote, market, and collect feedback. The company is also trying to set up a new sales channel on the Internet. In the future, customers may select and purchase the car online, but experience the car in the showroom.
"The function of showrooms will change with times. They will be limited to experience and service center roles. We will lead our dealership agents towards their new roles as the emerging e-commerce car business," said Zheng.
"We've been preparing a lot to integrate e-commerce and showroom, and the customization service. You will see that soon in the future," said Huang Zhaogen, Cowin's General Manager in marketing and sales.