Local production by Renault will begin in the first half of 2016 at its joint venture with Dongfeng, with the first model to be an all-new SUV, a top company executive said on April 20.
The Sino-French joint venture Dongfeng Renault Automobile Co was established at the end of 2013.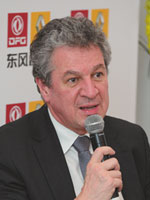 Jacques Daniel, president of Dongfeng Renault
"The first product will not be any model that Renault produced before," said Jacques Daniel, president of Dongfeng Renault, adding that "it will be a Chinese car for sure, as more than 85 percent of the components will be made in China".
The joint venture is confident about its future, he said, although it is only licensed to produce SUVs at the beginning.
But that is not an impediment - the SUV market is the fastest growing of all segments, he added.
Statistics from the China Association of Automobile Manufacturers show that 868,400 SUVs were sold in China in the first quarter of 2014, up 37 percent from a year ago. The overall passenger vehicle market increased just over 10 percent.
But as the third-largest European automaker by production, Renault's ambition in China is not limited to the SUV market.
"The joint venture will ask for other licenses," said Daniel, adding that the company does know "which cars to be produced and when to launch them".
An SUV model will be just the start of Renault's localization, but the joint venture formed with an investment of 7.7 billion yuan ($123.7 million) should show its profitability before moving to other segments, he said.
Its facility currently under construction has a designed production capacity of 150,000 units a year in the first phase, Daniel said.
Dongfeng Renault is working on building up its marketing organization as well, he added.
Meanwhile, Renault announced on April 20 at the Beijing Auto Show that to improve efficiency, it will use a unified brand image, sales network and product positioning for both imported and locally built models in China.
"The imported car business has been integrated into Dongfeng Renault, which aims to maximize the benefit of the joint venture," said Hu Xindong, vice-president of Dongfeng Renault.
The venture is also building a research and development center for further localization, he said.
"In the future, many more products will be developed in China to meet the expectation of local customers," Daniel said.
Chinese car buyers have some tastes of their own, which the automakers should pay attention to when developing in the market, said Daniel.