Much-anticipated operational rules for the China (Shanghai) Pilot Free Trade Zone, awaiting approval by local legislators, are expected to come into force in the second half of 2014 and lay a legal foundation for further reform.
Draft rules were submitted on Tuesday to the Shanghai People's Congress' monthly meeting. No decision will be announced until the next meeting.
Under the draft, the rules will take effect on Aug 1 and replace regulations that were put in place in 1996.
Jiang Sixian, vice-chairman of the standing committee of Shanghai People's Congress, told a forum this month that the new rules will be passed by the end of June. As a comprehensive framework, they will cover issues such as investment, trade, finance, tax and the legal environment. They also will legalize reforms already in place, such as removal of the foreign currency deposit rate and permission for offshore accounts in the FTZ.
Innovations adopted by the FTZ such as a "negative list" management approach for foreign investment, designed to bring more transparency and freedom, also will be incorporated.
Some experts expressed concern over the rules' effectiveness.
"Rules in the FTZ should be formed in a 'bottom-up strategy', as it will be tested in the FTZ and expanded nationwide," Huang Tao, a professor of law at Shanghai Jiaotong University, said in a research note. Many of the laws in the current structure "have been 'imposed' by the central government", Huang said.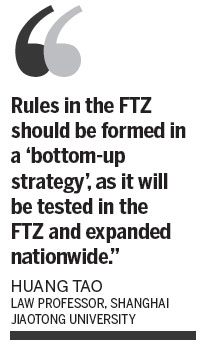 Governance of the FTZ will be carried out in a "scientific and democratic" way, the Shanghai People's Congress said on its website. The 10th clause in the draft rules stated that company representatives will participate in evaluating the rules, it said.
Dai Haibo, deputy director of the FTZ administration committee, said the rules will reflect those in other countries.
"The goal is to make companies in the FTZ feel no differences with anywhere else in the world," Dai said.
Apart from small steps in company registration and financial liberalization, the Shanghai FTZ has not brought too many surprises since its launch in October 2013. Foreign trade volumes there totaled 185.15 billion yuan ($29.95 billion) in the first quarter of this year, local customs data showed on Tuesday.
That was up 2.1 percent from the previous quarter. Exports dropped 5.2 percent to 45.65 billion yuan, and imports rose 4.7 percent to 139.5 billion yuan. It was 6.5 percent higher than the same period last year.