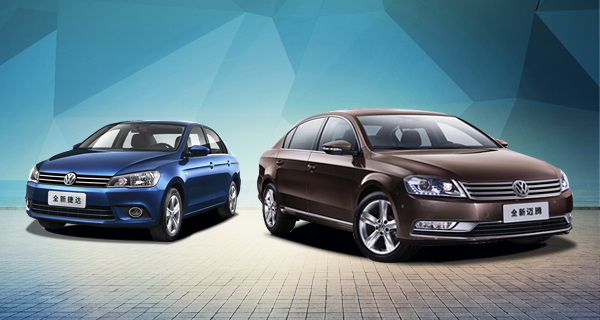 FAW-Volkswagen's new Jetta (left) and all-new Magotan [Photo provided to chinadaily.com.cn]
Though domestic auto market remained subdued, FAW-Volkswagen still hit record high, with a sales volume of 1,607,000 units and year-on-year growth of 17.4 percent in 2013, well above the industrial average. Volkswagen brand has sold 1,119,000 cars, up 15.8 percent year-on-year.
"As for the whole year's sales volume, Jetta's sales volume broke through 270,000 units, Bora broke through 230,000 units, and Sagitar broke through 270,000 units …" this is the FAW-VW's VW brand performance report in the year of 2013. Such strong market performance, with three products' sales volume exceeding 200,000 units, not only comes from the excellent product power and good reputation, but also originates from the its accurate positioning and planning, the company focuses on the research into market segment and the definition of target user, which makes each product has a clear user group and better satisfy market demand.
After several years' efforts on product architecture, a reasonable product echelon has taken shape, which gives it a stronger anti-risk capability; the company sets one brand apart from others, with each product having distinct product features.
The sound development of an enterprise lies in an overall improvement. While improving product line, FAW-VW has always been dedicated to one-million-car marketing system, a system matched to the scale of its sales volume. Under the guidance of Two Major Plans - Dealer Cooperation and Development Plan and Sales Company System Capability Improvement Plan - the target of high quality sales has born at the right moment.
Hu Yong, General Manager of FAW-VW Sales Co Ltd, believed, sales depends on the improvement of the overall system capability and dealer system capability, that is a request on balanced development. However, such a balance can't be accomplished overnight, and it needs balance in all aspects including dealer sales volume, capability, production, sales volume, inventory level, and even regional market.
At the beginning of the year, FAW-VW VW brand has made adjustments on regional market layout, the old NSC is replaced by RSD, it redoubled efforts on intensive cultivation of regional market and terminal, seeking for a better balance between regional dealers and more reasonable management of regional market, to realize a sound development of strong market and fast growth of potential market. Systematized balance strategy has brought the overall improvement of dealer operation quality and user satisfaction, shoring up its efforts on terminal market.
As the most fledged auto enterprise in the country, FAW-VW has devoted so many efforts on marketing system, network development and dealer capability, and indeed realized an overall development. For the future, with richer product line and more mature marketing system, FAW-VW will set a higher goal and take the lead in domestic auto market.