Jaguar has highlighted the versatility of its acclaimed C-X17 sports crossover concept vehicle with the debut of a luxurious five-seater version at the 2013 Guangzhou auto show in China.
The unique model, developed for China, features a bespoke ultra-luxury interior incorporating a range of new high-quality design elements in combination with innovative premium infotainment technology.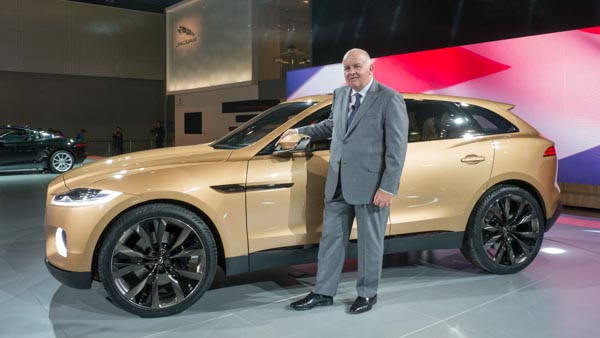 Jaguar Land Rover China President Bob Grace poses next to the new Jaguar C-X17 on Nov 21, 2013 during the media day of the Guangzhou auto show. [Hao Yan/chinadaily.com.cn]
Introduced at the Frankfurt Motor Show in September 2013, the C-X17 design study showcased Jaguar's all-new advanced aluminum monocoque architecture, on which an exciting range of future Jaguars will be built. The modular and scalable vehicle architecture, engineered and developed for Jaguar, is high-strength, lightweight, extremely stiff and incorporates innovative efficiency technologies. It enables flexible high-volume production while allowing creative design freedom and competitive interior packaging, without compromising the unique character, dynamics, performance and luxury that Jaguar is famous for. The new architecture will enable Jaguar to grow its product portfolio, targeting high-growth areas of the premium market.
As a luxurious sports crossover, the latest C-X17 stretches the design possibilities of the segment by combining the character and driving experience of a luxury sports car with increased presence, style and flexibility. The concept represents the potential expansion of Jaguar's portfolio of body styles, with the associated enhancement of the brand's appeal to a global audience.
"This latest version of the C-X17 has been specially developed for the Chinese market. The luxury sports crossover represents an exciting new direction for Jaguar and highlights the promise and potential of our all-new, advanced aluminum architecture – a technical foundation which will enable a dramatic expansion of Jaguar's product range as well as its customer appeal. Bringing premium technology to an accessible price segment, combined with new ultra-efficient engines, class-leading dynamics and Jaguar's renowned beauty and purity of form, we are poised for a monumental leap forward," said Phil Popham, Jaguar Land Rover group marketing director.
Jaguar's first product from the advanced aluminum architecture will be a new premium mid-size (C/D) segment sedan. Its global rollout will begin in 2015, and it will be the first aluminum monocoque product in the segment. Jaguars based on the new architecture will be powered by engines with a wide range of capacities and outputs, all delivering inspirational performance and offering the latest innovations in fuel-efficient technologies without sacrificing drivability. These will include the high-output four-cylinder petrol and diesel engines to be built at Jaguar Land Rover's new UK engine manufacturing facility, as well as the potent V6 petrol engine in the F-TYPE, which will provide best-in-class specific power output thanks to the lightweight architecture. These attributes will enable Jaguar to offer a wider variety of vehicles, with exhilarating performance, top speeds of over 300km/h, as well as class-leading emissions.
The latest C-X17 concept illustrates the diversity of vehicles that could be produced using the architecture. A five-seater luxury sports crossover concept built on the aluminum-intensive architecture, it blends sleek lines, sporting design and innovative sophistication with enhanced flexibility and an assured driving position. In its harmonious yet exciting proportions, purity of form and its beautiful lines – overseen by Director of Design Ian Callum – the C-X17 is every inch a Jaguar.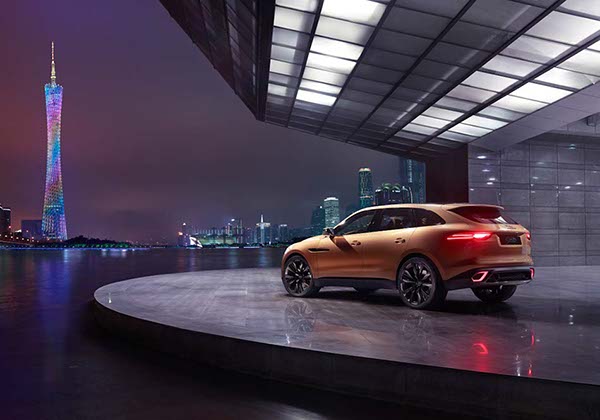 The new Jaguar C-X17 is pictured in Guangzhou. [Photo provided to chinadaily.com.cn]