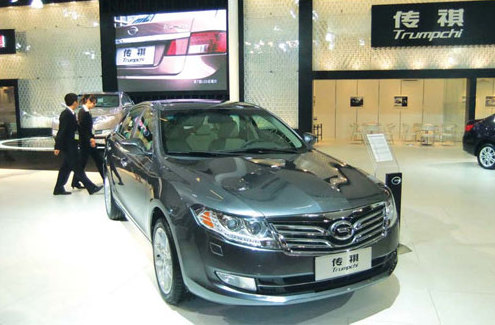 Export of the Trumpchi brand by Guangzhou Automobile is scheduled to begin next year. Li Huanhuan / For China Daily
Guangzhou Automobile Group Corp, partner of Toyota and Honda, plans to join the mounting campaign by China's indigenous carmakers to go abroad as it begins export of its own passenger vehicle brand Trumpchi next year.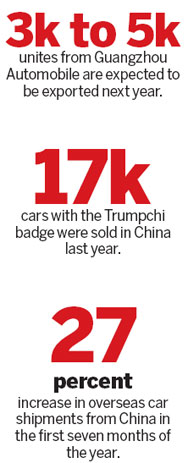 Wu Song, general manager of the group's passenger vehicle unit, said in a recent interview that it will start exporting Trumpchi cars to a range of overseas markets next year including South America, Southeast Asia, the Middle East and East Europe.
Wu said the company will also consider offering right steering wheel Trumpchi cars to the Australian market.
The company expects to export 3,000 to 5,000 cars next year, he said.
"We hope the Trumpchi brand will be accepted in the international market, which will also help promote its image at home," he said.
He said the company will also consider building wholly owned plants or joint ventures with local partners in other countries when time is right.
The Trumpchi marque was created in 2010. It now has two models, a mid-sized sedan and an SUV.
The sedan, based on acquired technologies from Fiat's Alfa Romeo 166, retails between 109,800 and 189,800 yuan. The SUV sells for 123,800 to 229,800 yuan at home.
Last year, Guangzhou Automobile sold 17,000 Trumpchi vehicles in China.
The company plans to launch a compact Trumpchi model next year and large-sized sedan and MPV around 2015.
Guangzhou Automobile's joint ventures with Honda and Toyota make passenger cars under the two Japanese badges.
With Chinese carmakers increasingly pushing into overseas markets, the country's vehicle exports are in the fast lane.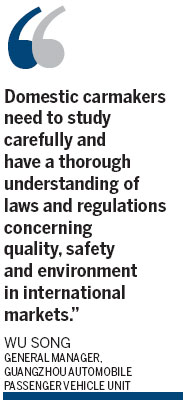 Overseas car shipments from China soared by 27 percent in the first seven months of this year to 577,000 units. Full-year exports are expected to reach 1 million units.
Domestic carmakers Chery, Great Wall, Geely and Dongfeng are all planning to export cars to more countries and build more overseas plants.
Dongfeng's passenger car brand Fengsheng announced in April that it plans to begin overseas sales next year and aims to ship a total of 90,000 units abroad by 2016.
But as the trend continues, "domestic carmakers need to study carefully and have a thorough understanding of laws and regulations concerning quality, safety and environment in international markets", Wu said.
Analysts said it will be a bumpy road for Chinese carmakers as they encounter a barrage of standards and regulations in Western markets on quality, safety and environmental protection that are stricter than at home.
The latest example was the recall of 24,000 cars in Australia by Chery and Great Wall last month after authorities found potential cancer-causing asbestos in several models.
gongzhengzheng@chinadaily.com.cn