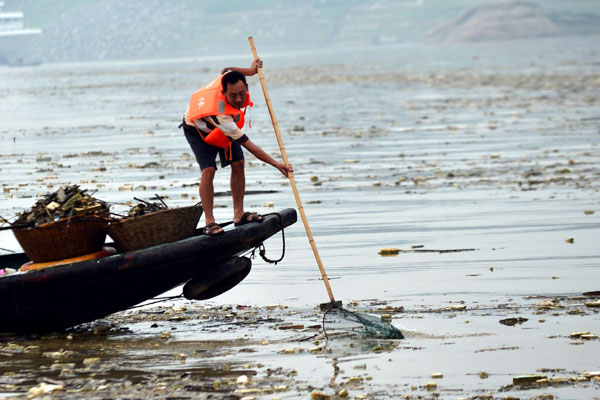 Workers pick up garbage floating in the Three Gorges reservoir in Yichang, Hubei province. During the two sessions, members called for an increase in the allowance provided to those working in ecological development to motivate more people to get involved. Zheng Jiayu / Xinhua 
Deputies at the ongoing two sessions called on the government to establish a system for compensating residents who make a contribution to the nation's ecology.
Although ecological awareness is on the rise, deputies at the National People's Congress, China's top legislature, insist that increased subsidies are necessary to motivate more people to get involved.
Allowances for businesses that protect ecology are far from high enough, said Li Jinghao, an NPC deputy from Jilin province, home to the forests of Mount Changbai.
Li urged the legislature to make a law to increase and regulate ecological compensation, aiming to better protect forests.
Bo Guangxin, another deputy from Jilin, echoed Li, saying that what residents who plant or keep trees receive is less than what they pay.
Take Jilin as an example. The forests in the province discharge more than 60 million metric tons of oxygen every year, "but the forest's keepers get little in return for their efforts and sacrifices on behalf of ecological protection," Bo said.
"These residents have opportunities for businesses in nearby forests, but they don't take them. They are unwilling to cut trees, and some of them have spent their whole lives in protecting the ecology," he said.
The current small allowances are insufficient and frustrate the residents, Bo said.
"I think those who benefit from forest-related businesses, or even destroy the forests, should pay the subsidies for those who protect the ecological regions," he said.
The topic was also a hot one in the Jiangxi and Hubei delegations.
Yan Gangjun, an NPC deputy from Jiangxi province, keeps a protective eye on Poyang Lake and wetlands, and takes care of those who sacrifice their own interests to promote the ecology.
At present, people who give up other businesses to protect migrant birds and plant trees in the natural regions of Jiangxi get about 200 yuan ($32.50) as an allowance per 0.07 hectare, which Yan characterized as "too little for such a significant job".