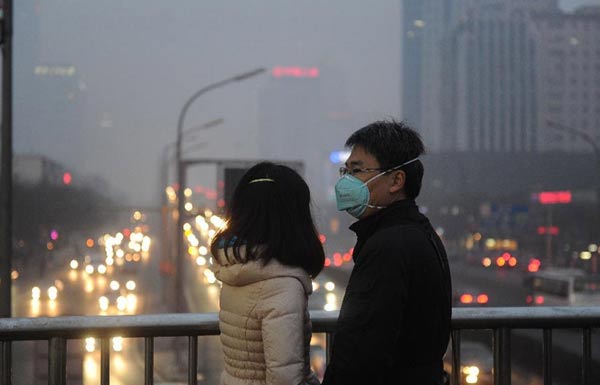 People wearing respirators are seen on a pedestrian bridge in downtown Beijing, capital of China, Feb. 22, 2014. [Photo/Xinhua]
BEIJING - With smog lingering over Beijing for a week, 147 industrial companies have cut or suspended production as of Tuesday as part of the city's measures to reduce pollution emissions.
City authorities on Friday initiated a response mechanism to tackle the smog. On the same day, the city upgraded the smog alert to orange, the second-highest level air pollution alert, for the first time.
Among the firms, 36 halted production, another 75 cut production in order to reduce emission discharges by 30 percent as required by the response mechanism, and another 36 firms voluntarily limited production, according to the Beijing Municipal Economic and Information Commission.
Beijing maintained its orange pollution alert on Tuesday, as the density of PM2.5, or particles smaller than 2.5 microns in diameter, measured over 400 in the city proper.
The commission on Monday dispatched 25 inspection teams to enforce emission cut measures. According to inspectors, district-level environment authorities have set up 45 inspection groups since Friday for spot checks.
Beijing Five Star Tsingdao Beer Co Ltd is among those required to limit pollution.
According to the inspection result, four of the company's six production lines have remained idle since Friday.
Company manager Yu Longqian said the firm halted some of its production lines so it could meet the emission reduction pledge. It has reduced daily output by 300-500 tons of beer, nearly half of the company's production each day.
The measure means the company will cut 40 percent of coal burning in its coal-fired boilers.
Yu said the company had to shoulder its environmental responsibility in spite of the economic losses.
Under measures taken in response to the orange smog alert, the municipal authority has also required building work to stop and no barbecues.
Li Jianfei, a law enforcement officer with the municipal environmental monitoring team, said their inspection found industrial firms have been complying with production reduction orders, but problems of illegal garbage burning and improper control of construction dust were found during the inspection.
The persisting smog has blanketed north and eastern China for days. On Tuesday morning, northeast China's Liaoning province and eastern Shandong province closed expressways as smog reduced visibility to less than 50 meters.