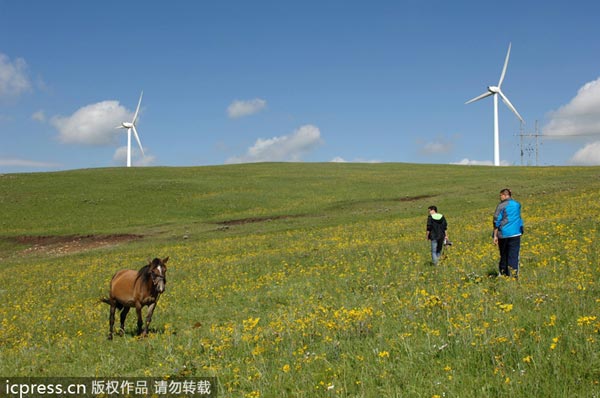 Spring time of grassland in Ulan Qab, June 22, 2013. [Photo/icpress.cn]
Authorities in the Inner Mongolia autonomous region are considering building a successful business model for ecological industry on the vast prairies, but it's not a straightforward task. Wang Kaihao reports from Hohhot.
It has been six years since Buhchuluu launched an animal husbandry cooperative of 70 neighboring families. This herdsman of the Mongolian ethnic group from the Siziwang Banner in the city of Ulan Qab, describes their united efforts running the cattle feeding business as "just OK" although his annual income has reached 200,000 yuan ($32,700).
"What we did mostly was still small business," he said. "We were not allowed to raise too many cattle because of a rigid grass-livestock balance policy. It will be good for maintaining the grass, but the process is kind of passive."
The Ministry of Agriculture announced a national rule in 2005 limiting the head of livestock on each unit area of pasture to better protect the grasslands and maintain an ecological balance between animals and the grass. Each banner or county in the region involved then set up its own quotas.
The situation seemed to improve when Buhchuluu joined a program led by Monsod Drought-Resistance Greening Co Ltd, China's only listed company devoted to grassland ecological restoration, based in Hohhot, the capital of the autonomous region. The company provides grass seed to the husbandry cooperative initially free of charge. The herdsmen can pay back the cost with the cattle they produce, which annually saves up to 10,000 yuan for each family.
Wang Zhaoming, board chairman of Monsod, developed the plan for the profitable eco-friendly economy that has just taken off in Inner Mongolia covering an area of 64 million hectares of available grassland. Monsod's market value had approached 6 billion yuan by mid-December.
"Horticulture doesn't necessarily equate with an ecological industry," Wang explained. "Horticultural plants need large amounts of water and need to be carefully looked after. However, a sustainable ecological industry means the plants are able to grow healthily without the intervention of human beings. That's why you cannot call golf courses part of an ecological industry in spite of their flourishing grass."
Wang, who grew up in a herdsman's family of the Mongolian ethnic group, has traveled around Inner Mongolia in recent years to collect the seeds of disappearing grass varieties, which possibly have potential in the marketplace.
The business has nurtured more than 40 kinds of grass that possess multiple functions, including urban greening, anti-desertification and the restoration of reclaimed mining land.
It has recently begun to establish a gene bank with BGI, one of the world's leading genome sequencing centers and also known as the Beijing Genomics Institute prior to 2008, to better develop grass varieties which are both of high economic value and suitable to the arid environment of Inner Mongolia.
In late November, Monsod launched the nation's first grassland ecology industry alliance in Hohhot, which includes 28 relevant enterprises, academic institutions and social organizations. It plans to get more on board in the near future. Wang claims the association will unite efforts in different sectors to share resources, improve lukewarm business in the field and form a healthy and sustainable industry chain in grassland ecology.