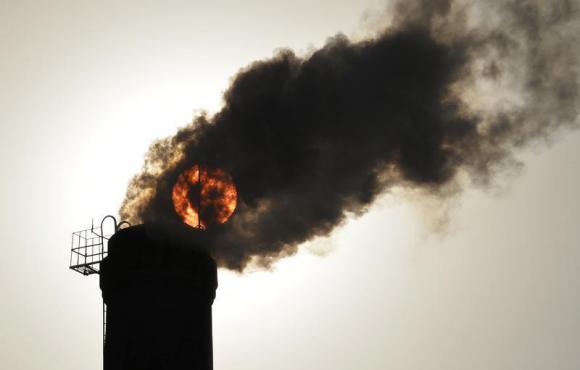 The sun is seen behind smoke billowing from a chimney of a heating plant in Taiyuan, Shanxi province Dec 9, 2013. [Photo / Agencies]
China's performance in four areas related to environmental protection fell short of standards set to help the country achieve its social and economic development goals by 2015, according to a report released on Wednesday by the National Development and Reform Commission.
The commission evaluated the country's development in 28 categories, including aspects of economic growth, technology, education, the environment and people's livelihoods.
Three of the four factors that fell short related to energy consumption.
Consumption of nonfossil fuels, which was planned to rise by 3.1 percent over five years from 2010, rose only 0.8 percent in 2011 and 2012 combined, making the 2015 target considerably harder to reach.
The other two energy-related criteria — energy consumption per unit of domestic gross product and carbon dioxide emissions per unit of GDP — each dropped only by about 6 percent by 2013, compared with the 2015 target for both of about 17 percent.
Total emissions of nitrogen oxide were supposed to fall 10 percent by 2015, but instead rose by 2.82 percent from 2010 levels by the end of 2012.
"There were multiple reasons the four areas came in below expectations, such as economic growth, which surpassed expectations; lagging industrial restructuring; and companies' reluctance to reduce emissions," said Xu Shaoshi, minister of the National Development and Reform Commission.
Zhou Dadi, vice-chairman of the China Energy Research Society, said local governments continue to focus on GDP growth, even though the central government has emphasized that it is crucial for growth to be sustainable.
"If the central government sets the GDP growth target at 7.5 percent, that could become 9 percent for provincial governments, and 12 or even 15 percent at the city level," Zhou said.
In consequence, he said, local governments are still accepting inefficient investments in industries such as steel and cement production, which ultimately leads to high emissions and energy consumption.
China now has even more polluting sources, affecting larger regions and having longer-term influence, Xu told the National People's Congress Standing Committee on Wednesday with regard to enforcement of the 12th Five-Year Plan (2011-15).
Air quality in 60 percent of domestic cities failed to meet the standard this year, and the water and soil pollution have become more serious, Xu said.
The next step will be to adopt double controls on energy intensity and total energy consumption, he said.
But Zhou said that controlling total energy consumption may be very difficult to achieve at the provincial level or below.
This is partly because some of the energy is consumed by small and medium-sized enterprises that number in the millions and that are extremely hard to control, he said. Another factor is the difficulty in budgeting and accounting for energy consumption.
Zhou Benshun, Party chief of Hebei province, the part of China with the worst pollution, said recently that the provincial GDP will increase by 8.5 percent in 2013. The growth rate will be lowered to 8 percent in 2014.