China's ambitious campaign to combat desertification with afforestation
Watching a large number of poplar trees in the area slowly dying, their branches turning bare, is both worrying and heartbreaking for 59-year-old Yuan Miaozhi, a forestry official in Zhangbei county, north China's Hebei province, especially since she planted many of the trees herself when she was a child.
The daughter of a forestry official, Yuan answered the call of a local afforestation program and started planting trees with her father at the age of 9. Since Yuan's hometown lies on the edge of the Gobi Desert, one of the largest desert regions in Asia, any trees that they plant can help protect the local land from soil erosion as well as reduce occurrences of sandstorms reaching Beijing, which is only 200 km away.
Zhangbei is under the jurisdiction of Zhangjiakou city, which has been identified by the Ministry of Environmental Protection as lying on two of the routes that bring sandstorms to Beijing and neighboring Tianjin. It is also one of Zhangjiakou's four counties located in the Bashang area, which has also been historically plagued by sandstorms due to limited water resources and poor soil conditions.
At the end of the 1940s, the part of the Bashang area under the jurisdiction of Zhangjiakou had only 6.4-square-km worth of surviving primitive birch and poplar forests in an area of 13,800 square km. After a spate of projects to plant large-scale windbreaks, trees and shrubs planted in such a way as to stop wind blowing freely through an area, forest coverage in this area rose to 7.4 percent by 1977 and has since jumped to 22.4 percent.
For decades, China has made afforestation efforts to attempt to curb the desertification of areas around the Gobi Desert as it expands, and to help fight global warming. The country's nationwide forest coverage reached by 20.36 percent in 2008, up from 13.92 percent in 1992 and it is projected to hit 21.66 percent by 2015, according to figures from the State Forestry Administration (SFA).
The SFA also announced in mid-July that China is to spend 212.9 billion yuan ($34.9 billion) by 2020 to fund afforestation projects, with plans to increase the country's forest coverage by 4.1 percent.
Seeking support
During the early stages of tree-planting projects in Zhangbei, poplar was settled on as the best choice of tree to use.
"Poplars can be rooted easily using cuttings and they grow quickly, making them ideal for local farmers to plant," Yuan said.
Wang Jinhuan, deputy director of Zhangbei's Forestry Bureau, said that out of the county's 1,090 square km of windbreaks, around 670 square km consist of pines, elms and sea-buckthorns that were planted after the conversion of some farmlands into forests started in 2000, while all of the remaining 420 square km of trees are all poplars.
According to statistics from the local government, the annual number of gales hitting the county, the average speed of winds and the number of days with sandstorms have all decreased dramatically while the county's relative humidity and frost-free periods have grown substantially. These factors would indicate that Zhangbei's natural environment has improved enormously as a result of the forestation programs that have been implemented over the past four decades.
Beijing has been long plagued by sandstorms that hit the city every spring, prompting many to wear face masks amid the red and brown gloom. The sand makes its way down from the deserts in Inner Mongolia autonomous region, including the Gobi, and can often block the sun for hours at a time. The earliest records of sandstorms in Beijing date back to the Yuan Dynasty (1271-1368), when historical documents tell of a storm in 1367 that lasted for 43 consecutive days.
According to the China Meteorological Administration, in terms of the length of sandstorms annually, Beijing was hit by the worst sandstorms in the 1950s. Over the past four decades, the days of dusty weather in Beijing have been dropping annually in general. This could be attributed to the successful shelterbelt programs conducted by people like Yuan.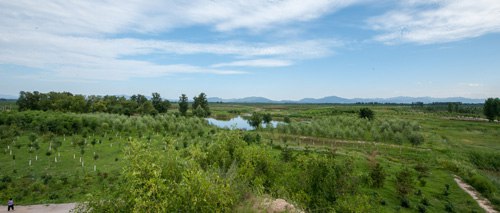 SHELTERBELT: Windbreaks in Yanqing County, Beijing, on August 19. Yanqing is on one of the main routes sandstorms hitting Beijing come through