Plastic pollution of farmland worsens as the use of polyethylene film becomes more popular
Each new harvest brings Xiao Fulin, a farmer in Manas County in Northwest China's Xinjiang Uygur autonomous region, less joy and more frustration. This is on account of the land that Xiao is using becoming increasingly polluted by the plastics used to increase the yield of crops.
Xiao first started using plastic film as "mulch" for his 2.7 hectares of cotton farm 30 years ago, and it led to a substantial increase in yield. "Mulch" is a broad term referring to a wide range of substances often used in farming to cover the soil. It prevents soil moisture from evaporating, restricts the growth of weeds and regulates soil temperature. Although straw, peat moss and leaves can all be used, most of the time purpose-made sheets of polyethylene film are utilized in modern agriculture, enabling crop yield increases between 20 and 50 percent.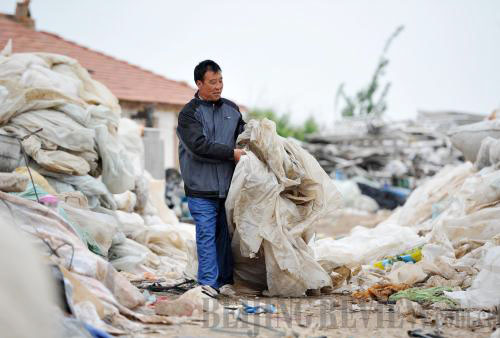 Wang Furong sorts used plastic mulch for recycling at his workshop in Mingrong Village in Xiji county, Ningxia Hui autonomous region. [Photo / bjreview.com.cn]
In spite of the advantages, the residual pollution left in the soil by 30 years worth of plastic mulch has come back to haunt Xiao.
"This headache is common to farmers all around. We don't know how to deal with it," Xiao said anxiously.
The extensive use of plastic mulch in farming across the northwest and southwest China has brought on severe pollution, posing challenges to local agricultural production, said Yan Changrong, a researcher with the Institute of Environment and Sustainable Development in Agriculture at the Chinese Academy of Agricultural Sciences (CAAS).
"Plastic remnants left over from mulch use prevents crop seeds from absorbing water from the soil, leading to lower yields," Yan said, warning that the problem has affected the sustainability of China's farming. "It's an urgent issue requiring the attention of relevant authorities."
Careless contamination
Chinese farmers first began using plastic mulch in 1979, mainly for the growing of vegetables. In 1982, it was promoted in the farming of nearly all kinds of crops across the whole country.
"The use of plastic mulch was a revolution in the history of Chinese agriculture. It helped farmers make massive strides toward increasing grain production," said Xu Zhiguo, a professor at the Institute of Plastic Processing and Application of Light Industry at Beijing Technology and Business University.
For the past 30 years, China has been the number one consumer of plastic mulch in farming. CAAS statistics show that more than 1.2 million tons of the product are used in farming each year in the country, covering more than 40 kinds of crops across 133 million hectares of farmland.
"It's through using plastic mulch that the output of corn has increased by at least 30 percent in China's northwestern areas," Yan said, adding that Xinjiang's rise to become the country's primary producer of cotton should also be attributed to the introduction of the technology. He explained that in the past, many high-yield strains of cotton could not survive in Xinjiang because of the region's lower temperatures, but the use of plastic mulch means that is no longer a problem.
However, with more plastic mulch being used in farming, an unexpected side effect has gradually emerged.
According to Xu, problems arise from the fact that plastic mulch is made from polyethylene. "Plastics like polyethylene can remain in the soil for more than 100 years without degrading," Xu said. "With more and more plastic lying stagnant in farmland, the original 'white revolution' has turned out to be a 'white terror'."
According to Jiang Gaoming, a researcher with the Institute of Botany under the Chinese Academy of Sciences (CAS), currently about half a million tons of plastic mulch are left in China's farmland every year, almost 40 percent of the total annual consumption. "This forms a layer in the soil that is less permeable to water and air, making it harder to grow crops," Jiang said.